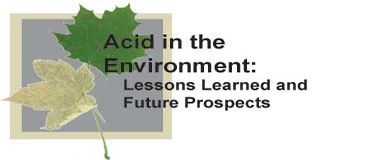 The 2005 Elizabeth Babbott Conant interdisciplinary conference was co-sponsored by the Connecticut Institute of Water Resources, the Sea Grant Program of Connecticut, and the Connecticut Chapter of The Nature Conservancy.

During the past twenty-five years acid rain, formally referred to as acid deposition, has been the focus of much political debate and scholarly research. Acid deposition is an environmental problem that crosses state and national boundaries, and is closely linked to energy policy since much of it originates as emissions from fossil-fuel power stations. This conference focused on important ecological impacts of acid deposition, the transboundary nature of the pollutants, and domestic and international policies designed to reduce their emission.
Conference Proceedings Published!

"Acid in the Environment: Lessons Learned and Future Prospects presents a broad approach to the study of acid deposition, exposing readers with a scientific background to significant policy issues and those with a policy orientation to important ecological impacts. The book raises important questions that will serve as a springboard for discussion between diverse groups of teachers and students, concerned citizens and legislators, and scientists and policy makers." The book is available from the publisher.
Conference Speakers:
Anthony C. Janetos, Vice President, The Heinz Center for Science. Economics and the Environment Lessons Learned from the Acid Deposition Research Experience
Charles Driscoll, Professor of Environmental Systems Engineering, Syracuse University. Acid Rain Revisited
Peter Dillon, Professor of Biogeochemistry, Environmental and Resources Studies and Chemistry Departments, Trent University, Canada. Acid Deposition - Effects, Responses to Decreases in Sulphur Emissions, and Prospects for Long-term Recovery
Knute J. Nadelhoffer, Professor of Ecology & Evolutionary Biology, University of Michigan. Director, University of Michigan Biological Station. Atmospheric Nitrogen Deposition: Implications for Nutrient Cycling, Acidification and Terrestrial Ecosystem Functioning
Robert Howarth, Professor of Ecology and Environmental Biology, Cornell University. Nitrogen Pollution From Acid Rain is a Major Driver of Eutrophication in Coastal Marine Ecosystems
Paul Portney, President and Senior Fellow, Resources for the Future. Economics and Air Pollution Control
Daniel Sosland, Executive Director, Environment Northeast. U.S. Energy Policy and the Transmission of Acid-producing Emissions Across State Boundaries
Don Munton, Professor of International Studies, University of Northern British Columbia. U.S.- Canadian Conflict and Cooperation on Transboundary Acid Rain
Miranda Schreurs, Associate Professor of Political Science, University of Maryland. Addressing the Transboundary Acid Rain Issue in Western Europe: Lessons and Comparison with the U.S. Experience
Barbara Connolly, Assistant Professor of Political Science, Notre Dame. The Challenge of Eastern European Integration & Compliance with LRTAP
Liliana Andonova, Assistant Professor of Government and Environmental Studies, Colby College. EU Integration and Acid Rain Policies in Central and Eastern Europe
Richard D. Morgenstern, Senior Fellow at Resources for the Future. Choosing Environmental Policy: Comparing Instruments and Outcomes in the United States and Europe
Ronald Shadbegian, UMASS-Dartmouth and Visiting Economist at the Environmental Protection Agency's National Center for Environmental Economics. The 1990 Clean Air Act Amendments: Who Got Cleaner Air - And Who Paid For It?
Joseph Kruger, Visiting Scholar at Resources for the Future. From SO2 to Greenhouse Gases: Trends and Events Shaping Future Emissions Trading Programs
Timothy H. Tear, Director of Conservation Science, Eastern New York Chapter, The Nature Conservancy. Atmospheric Deposition and Conservation