Getting Here
Getting here
The campus is readily reached by car, and there is ferry, rail, bus and air service to the region.
Camel Van Shuttle
Camel Van, a free shuttle service, provides students and other members of the Connecticut College community with transportation to retail and entertainment venues in the greater New London area as well as to the transportation center downtown. Stops include Target, Walmart, New London Mall, Crystal Mall, Waterford Commons and Waterford Regal Cinemas. The van operates Wednesday through Sunday throughout the academic year. The Camel Van route includes two on campus pick up/drop off locations: in front of the College Center and on the west side of Jane Addams and Freeman houses.
The Flying Camel Airport Shuttle
The Flying Camel Airport Shuttle is available for Thanksgiving, winter, spring and summer breaks. The College has partnered with Legends & Alumni Limousine, a local transportation company, to offer students a discounted fare for shuttle transportation between campus and T.F. Green Airport in Warwick, Rhode Island, and the New London Train Station during these break periods.
The cost each way is $30 (for shuttles to T.F. Green) and $5 (for shuttles to New London Train Station), which is billed directly to a student's College account. All reservations must be made directly with Legends & Alumni Limousine (860-439-0391). An individual making a reservation must have available the student ID # of the passenger for whom the reservation is being made.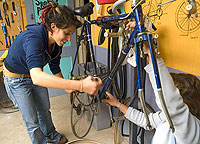 Bicycles
Bike racks are located in many areas on campus. Students should bring adequate locking devices for their bicycles. Members of the community are encouraged to register their bicycles at no cost. The serial number and pertinent data are recorded on the registration form and kept on file at the Campus Safety Office. Motorbikes are not permitted in the residence halls. Spokespeople, a student-run collective, repairs and leases bicycles.
Zipcar for local or longer treks
Whether for local shopping or longer treks, through Connecticut College's partnership with Zipcar, two vehicles are available to members of the campus community age 18 or older. Students, faculty and staff are able to join Zipcar at Zipcar.com/connecticutcollege and make reservations, 24 hours a day and up to a year in advance.
Cars on campus
You may find that you don't need a car at Connecticut College. There are numerous transportation alternatives, including Zipcar, the Camel Van local shuttle, SEAT (the local city bus) and several taxi services. Many students also use bicycles to get around campus and off. If you still think you'll need to bring a car to campus, learn more about motor vehicle registration and parking rules.
To advance environmental sustainability and shrink the College's carbon footprint by reducing automobile use, two policy changes have been made aimed to reduce the number of student cars on campus. At the request of students and recommended by vote of the Student Government Association, parking fees were raised to $150 per year. As of Fall 2011, first-year students are no longer be allowed to have cars on campus.
Bus service
The SEAT Bus is a convenient and affordable way to get off campus and travel to some of Greater New London's most popular destinations, including downtown, the train station, New London Shopping Center, Crystal Mall, Waterford Commons, Ocean Beach and Mohegan Sun Casino.
Campus bus stop
The Connecticut College bus stop is located on Williams Street, across from the Williams Street campus entrance, just south of the Arboretum entrance.
Route
From the campus bus stop, the bus goes through Hodges Square and eventually arrives at the SEAT Bus Transportation Center in downtown New London, next to the train station (takes about 10 minutes.) If your final destination is not downtown, you can transfer for free to one of the other buses -- Bus 12, Bus 13, Bus 14 or Bus 15 -- that go to different locations throughout New London and Waterford.
Fare
Fare for one-way is $1.50. Exact change, passes or tickets are all acceptable forms of payment; bus operators will not make change.
Taxi Services
There are a number of taxi services in the New London area. The College has an arrangement with Harry's Taxi (860-444-2255) in which a student presents his/her Connecticut College ID and the taxi driver will inform the College of the fare. The student's account is then billed by the College. This service is available at any time, day or night. Other local taxi services include Livery Limited (860-599-8840 or 888-534-3632), Port City Taxi (860-444-9222) and Yellow Cab Co. (860-443-4321).