From the Peking Opera, a Feisty Fisherman
— Tek-Wah King, Senior Lecturer in Chinese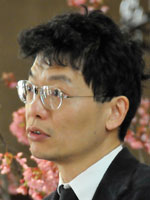 When it comes to music, the one if not only one category that I know Professor Chu always relished was nothing else but the embellished, half-note-rich tunes and melodies of Peking Opera.
It could be the role of the Han-Dynasty prefect Chen Gong, who is lamenting over his unwise decision to abandon his official post to flee with Governor Cao Cao. Or it could be concubine Yu Ji bidding farewell to her general lover when they are faced with their losing battle.
Professor Chu embraced all these musical highlights whole-heartedly, memorized the details of each scene, and could belt out a tune or two, or play it on the two-stringed instrument er-hu that he learnt how to play as a child.
And one of the pastimes he used to engage himself in was to put down the libretto of an aria on a piece of paper to test his own memorization skills. Of the tunes that I have had the honor and joy to hear him play was a piece from the opera The Fisherman's Revenge, about the courageous fight waged against a fishing village's corrupt taxing officials by this integral, heart-warming, and yet feisty fisherman.
Therefore, in a memorial and celebratory gathering like this, it seems befitting that we share, among ourselves and with our beloved Charles Chu, a tune sung by this fisherman, a tune that has always reminded me of the generous spirit and ceaseless energy of Professor Chu as our department founder, the program builder, a life-time teacher and mentor, and a tenacious and innovative fighter no matter in successful times or during more adverse moments.
* * * * *