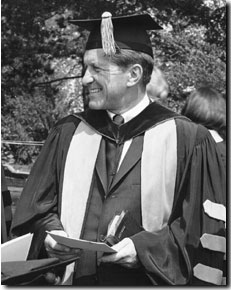 I read with special interest the edition of ConnCollege Magazine that contained the tributes to Charles Shain.
I recently shared the magazine with my father, John Coburn, who was a classmate of "Chuck" Shain at Princeton. He mused: "Chuck was a lovely human being. I got to know him well during our senior year. We had adjoining carrels on the top floor of the library while we were writing our senior theses. We had an on-going competition to see who could write the longest footnote."

I thought this anecdote was worth adding to the lore surrounding Charles Shain, an academic with a fine sense of humor. - Sincerely, Judith C. Klein '69
---
The leadership vision of Charles Shain saw Connecticut College as a place of service to students, the community, the state, the nation and the world.

His presidency was a blessing to the College in many ways. Among them, he appreciated the value to all liberal arts students in having the opportunity through a course offering to better understand the role of public education in our American democracy. He also vigorously supported providing a quality program for self-selected students to prepare for careers in teaching. His commitment to the local community included welcoming teachers from local schools to a graduate study program designed especially for their needs.

On a personal level, Mr. Shain was a wise, gentle man. To know him, to experience his generosity of spirit, was a true gift from God. - John A Santini, Prof. Emeritus of Education
---
What a wonderful man he was — the perfect image of what a college president should be. It was always comforting to see him around the campus. - Victoria Trefts '75
---
Charles Shain had what it takes to be a great college president: intelligence, knowledge, charm and, most important, care for students and faculty. It wasn't an easy time to be head of a college. With all the political turmoil and civil strife, campuses were full of angry people. President Shain got the college through it by listening to students and not overreacting.

I was disappointed when he retired from Conn, but happy to hear a few years later that he'd been chosen to head the school system in a town in Maine. Then word came that he was writing a book. So much for retirement. I don't think he ever stopped educating ­ which was lucky ­ because he was great at it. - Mary Saner ­ '72
---
On the afternoon of November 22, 1963, we heard about the JFK assassination on the radio. Someone said, "The President has been shot." More than one student asked, "Who would shoot President Shain?" - Elayne Zweifler Gardstein '67
---
I never knew Charles Shain, as he had retired before I arrived at Conn in 1977. But I do have a memory of him that comes from an unexpected place. My father was a union construction worker, and he worked on the construction of Lazrus House during President Shain's tenure. When I grew up in New London the College and the City were two very different worlds, separated mainly by class. So it always stuck in my mind that my father would often tell me, while I was attending Conn, how President Shain would frequently visit with the construction workers while they built Lazarus House. At first, they didn't know he was the President of the College, and he didn't make a point of telling them. He just befriended them like "a regular guy." And that always impressed my father. - Peter O'Connor, '81
---
Thought I would pass along this story involving President Shain... I was in the class of 1970, in the days when hitchhiking was more prevalent, although not always safe. My freshman roommate (Diane Capidilupo) and I were desirous of going to Yale, and not having our own transportation, decided to hitchhike. I was a bit apprehensive about the plan, but when a station wagon containing a man and woman pulled up, I felt that it would be all right. We got in, and the man, who was the driver, asked us where we wanted to go. He did not turn his head, but kept looking straight ahead. He drove for a little while, and then slowly turned so that I could see his profile. At that point, horrified, I realized that it was none other than President Shain! (Students were not allowed to hitchhike.) He calmly told us that he would take us to Yale, but he never wanted to see us hitchhiking again! That was the last time I ever attempted to hitch a ride...

President Shain was always friendly to students as he walked around the campus. I respected him and feel that he was an excellent president during difficult times nationally. - Elaine Hester, class of '70
---
I was fortunate to spend four years on the Conn campus during the tenure of President Charles Shain. Despite the tumultuous times (the late '60s), Charles was a steady, respectful leader who carried the College through the Vietnam protest years, as well as the strategic decision to go co-ed. Urbane and handsome as well, he was everything I expected a college president to be! We alums here in Maine were privileged to have Charles among us after he retired from the College and moved to Georgetown, Maine. He and his second wife, Brownie, loyally attended all of our Connecticut College Club events. When I introduced myself to him at his first event, he enthusiastically greeted me, claiming he remembered me from our campus days. I couldn't recall that we'd had much direct contact, but it certainly made me feel good that I had somehow distinguished myself to him -- maybe! I will miss him greatly and will always carry fond memories of the quintessential college president... - Anne Bonniol Pringle '69
---
During a Long Island Sound dredging expedition with Professor Paul Fell's class, I will always remember being schooled by President Shain. He personally demonstrated to me on the proper way to consume a raw oyster. He threatened to not graduate me from CC until I was able demonstrate to him that I had mastered this task. To this day, I always think of Charles Shain when I eat raw oysters, and clams. By the way, I was never credited for that course on my transcript! - Timothy E. Yarboro, M.D. '75
---
Mr. Richard Lukosius who taught in the Art Dept. told me when I came to Conn. College that I was one of the first art students that had training in calligraphy. Campus jobs at that time were all paid the same flat rate, but he was able to secure $10 an hour for me to hand letter/address the Christmas cards that Mr. Shain sent out as president of the college. For two years (I was class of '64), I spent several days before Christmas vacation in Mr. Shain's office. He was such a fabulous person! And because he was extremely handsome, most of the students swooned over him. So of course my time in his office under this rather unusual circumstance was much envied by my friends! - Kathleen McKenna '64
---
I am part of the class of 1973 and knew President Shain very well. Those years were quite tumultuous. Many changes were occurring, and President Shain showed patience and wisdom as he dealt with the many political controversies which occurred in our country that were reflected on campus. There was of course the Kent State incident which came from the Viet Nam protests. There were changing values and morals which were affecting faculty and student views of what a liberal arts education should consist of. There was also a rising environmental movement, with the first Earth Day being celebrated on Conn College's campus as it was around the country. I was personally very involved in the environmental movement and played a role in organizing the Earth Day celebrations on campus. One personal anecdote about President Shain which I want to share with you involves my involvement with some of the environmental issues swirling around campus and the country at that time.

One of my fellow classmates, Margaret Sheppard, and I became concerned over the proposed expansion of the highway access which involved cutting off a piece of the campus just south of the museum. We began a protest on campus to stop the expansion and save that piece of the campus and the old trees which were growing on this section. The controversy went on for some time, and President Shain wanted to go along with the expansion (there were likely condemnation issues so the President may not have had much choice) as it would result in additional revenue to the school. Margaret and I created such a fuss that eventually President Shain called us into his office for a chat. I recall that he tried to reason with us in a patient and kind way, without devalidating our opinions. Unfortunately, he was up against some very young and determined people. Finally in exasperation he said: "Margaret and Barbara... you cannot wrap yourself around every tree on campus. Life will go on!" - Barbara B. Guibord '73
---
I am very saddened by the news. I have warm memories of personal interaction with President Shain as he made a point to come to our before-dinner gatherings in our dorm living rooms (my first taste of sherry!). I was always proud that he was our president. He was a "class act" and made each and every one of us feel our views and ideas were important. He'll be missed. - Cheri Kohler Saltzman '73
---
I have no specific anecdote, but I loved President Shain, as did my classmates. He was a lovely, congenial man whose gentle nature and excellent principles guided us through our college years and beyond. He often strolled the campus paths. When we were lucky enough to "cross paths," he would greet us with a smile that melted our hearts. We were in love with him and all he represented, which was the best of everything, in our estimation. So, as you can imagine, even after all these years, it is with great sadness to hear of Charles Shain's passing. How blessed we were to have known him and been influenced by him during those special years of our lives. - Susan Cohn Doran '67
---
I remembered another incident about Chuck that might be of wider interest. My senior year, 1971-72, my wife and I were house fellows in Larrabee House, one of few dorms with men. It was in spring and some of the younger male students had the clever idea of removing and rearranging the large letters that identified LARRABEE HOUSE. I was soon informed that Larrabee was now easily identified as "LA ROUE'S BAR." It seemed like a reasonable sophomoric joke and I just asked the guys [to] give me all the unused letters. No one wanted anything lost or damaged.

Well, at lunch time I noticed that Chuck walked by Larrabee on his way to Crozier (I think that's the correct spelling). He stopped dead in his tracks and did a serious doubletake. For a short moment he had a remarkably astonished look on his face. Then he collected himself and walked off to lunch. As one of the strong leaders moving Connecticut College into the era of coeducation, I'm sure Chuck anticipated that the campus would become a different place. But it was vividly clear that he never anticipated this unauthorized renaming of a college dorm. But Chuck didn't flinch or get excited, he didn't roar into the dorm demanding that things be put back to place, he didn't want names of culprits to be brought to the campus justice system, whatever that was. He simply walked off to lunch, no doubt informing colleagues of the new name. After lunch a surprising number of faculty members passed by the dorm.

The guys responsible for this feat brought all the letters to our room, and a short while later, with the letters in our closet, I was able to assure the inquiring Security Guard that "I was quite sure all the letters were safe and would be re-affixed shortly." For Chuck it was one of the unanticipated signs, literally, of a new campus; the silliness of young men who wanted to have a good time and meant no harm. But I'll never forget his first look of astonishment as he contemplated "LA ROUE'S BAR" on campus. In retrospect, I'm sorry he didn't come in asking for a beverage. Who knows what other surprises might have awaited him. - Peter Vickery '72, Center for Ecological Research, Richmond, Maine
---
As editor-in-chief of Conn Census, it was my privilege to have weekly meetings with President Shain. He was deeply interested in students' ideas, whether about the Vietnam War or the campus controversies over cars on campus and the three-year phys ed requirement. He didn't attempt to control what we wrote in the newspaper, but I usually came away from our meetings with a larger and wiser perspective. For me and many others, he was a model of the best a leader can be — modest, good-humored, and kind. In a time when many of us were disposed to question and resist authority, it was just impossible to see Charles Shain as a bad guy! - Janet Matthews Tomlinson, '66
---
President Shain arrived on campus the same fall my class did, so he was our president all four years. I found him a fine man, certainly better than Kingman Brewster who gave our commencement speech and told us what fine Yale wives we could be! I had the good fortune to run into President Shain a few times in the past years up here in Maine. I always saw him at the Georgetown Fireman's auction, and once went to hear him speak at a historical society meeting. As a child development major I really enjoyed his book which he edited with his wife, Growing up in Maine, a collection of Maine childhood stories. I shall miss him. - Marnie Cale Kalkstein '66
---
My single personal interaction with President Charles Shain occurred in the first weeks of my arrival as a freshman at Conn College in the fall of 1973. Upon returning from an evening of dedicated study at the library, I was shocked to discovered some drunken hooligans from the evil Harkness dorm had knocked over a 30-foot lamppost near the entrance to Jane Addams. The damage already done, I recruited fellow do-gooders Matthew Geller and James Litwin to severe the electrical wires and safely store the lamppost in the 2nd floor dorm room of Guy Morris. The whole dorm then waited in hiding for Guy's return. It was the start of a successful career in prankophilia that continues to this day.
Shortly afterwards the Judiciary Committee put the JA3, as we became known, on social probation and fined us $50 for destruction of property. As was our right, we appealed the levying of a fine to President Shain. We protested that since the lamppost was on the ground, our actions caused no further damage. President Shain heard our appeal with a stern expression. Despite the gravity of the matter and the urgent criminations of the Judiciary Committee chairwoman, he failed to maintain this countenance and finally broke into hearty laughter at the absurdity of the debate. He waived the fine and warned us to conduct all future pranks out of his view. A just verdict and advice well taken.

I have no doubt that he made more demanding decisions with a similar mix of good judgment, humor and care. - Daniel Booth Cohen '77
---
Charles Shain was a freshman with our class, a fact which he said connected him intimately with us. We were all new at Connecticut College, he said at our matriculation, and we would find our way there together. He was a perfect president for that time. The country was in turmoil over Civil Rights and the escalating war in Vietnam, and in the midst of that, President Shain chose civil discourse and respectful dialogue as a way beyond hopelessness and despair. On a lighter note, I remember fondly an event that took place during one reading period, that anxiety-ridden week that preceded exams. The College decided to forego the ritual of providing evening milk and cookies in the dorms, and a large group of students, infuriated by this outrage, took to the streets, and marched to the President's house. We carried a hastily made sign demanding the return of milk and cookies. We were met outside the President's house with a smile and assurances that all would be restored by the following evening. And so it was. We felt effective and righteous. To his credit he did not make us feel ridiculous! He was a gentleman, and a man of his word. I am grateful for the leadership he provided for us then. Our little world, and the big world outside the college gates, was better for having been touched by him. - Ellen Hofheimer Bettmann '66
---
I have many memories of Charles E. Shain and here are just a few. It was at the end of my junior year, 1962, when we learned the College had found a replacement for Rosemary Park. We all wondered who could possibly fill her shoes! The introduction was to be made at an all-campus meeting in the auditorium and everyone went with great anticipation and curiosity. There was some degree of tension in the air and the place was packed. Mr. Shain very casually strolled out onto the stage, leaned against the podium ,and said "This is my version of 'show and tell'." The auditorium rang with laughter, the ice was broken and we loved him. I don't even remember the rest of his speech.
My second anecdote occurred a year later during my senior year in the spring of 1963. At that time the college was run by the honor system and I happened to be Chief Justice of the Honor Court. Seven seniors were in the process of being forced to leave because of various violations. Needless to say, it was a stressful time for all of us. It must have been very problematic, to say the least, for the new President of the College to have to deal with irate parents and related issues. He never once tried to pressure us to compromise our decisions. He treated us with respect and allowed us our independence. It was an invaluable learning experience for us all. Toward the end of the stressful meetings, he asked me how I was doing and I said I was exhausted and just wanted to have time to wash my hair. Several days later I passed him in the crowded hall and he yelled at the top of his lungs — "Carolyn, did you wash your hair?" He was lots of fun, too.
My third anecdote has to do with how well he knew all of us without our realizing it. There was a large meeting of northeastern educators and Mr. Shain attended that meeting along with the heads of high schools, other colleges, etc. While there, he apparently sought out the headmistress of the high school I had attended, introduced himself to her and then told her he wanted her to send more students like me. I am not writing this to brag — but I had no clue that he even knew what high school I had attended. The headmistress was so taken aback she called me to tell me the story. - Respectfully submitted, Carolyn Boyan Raymond '63