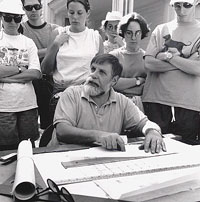 Professor Emeritus of Anthropology Harold D. Juli, Ph.D., 59, died on Saturday, Feb. 10, 2007, after an eight-month battle with cancer. Read the obituary reprinted from New London's The Day.
A campus memorial service was held at 1 p.m. on Sunday, April 22, 2007, in Harkness Chapel. View the tribute by Dean Theresa Ammirati.
A professor of anthropology at Connecticut College for 33 years, from 1974-2007, Harold also served as the associate dean of the faculty from 1987 to 1990.
He received his B.A. from Queens College of The City University of New York and an A.M. and Ph.D. from Brown University.
His areas of specialization were colonial archeology in New England, Native American archeology, Mexican historical archeology and archeology and historic preservation.
He worked on 22 archeological digs in New England, Israel, Peru and Alaska. In addition to the regular courses he taught in archeology, he also taught a summer course in which students participated in an archeological dig.
Professor Juli's later research interests focused on Connecticut historical archeology, archeological preservation and the historical archeology of Hispanic America and Mexico. In the Spring of 2002, he was the director of SATA Mexico, located in Puebla, Mexico.
Professor Juli published more than 16 articles in journals such as the Bulletin of the Archeological Society of Connecticut, Northeast Anthropology, and New England Historical Archeology. He was editor of the Archeological Preservation column in the newsletter of the Connecticut Trust for Historic Preservation.
He also gave more than one hundred lectures to historical societies, schools and museums. Professor Juli was vice chairman of the Connecticut Historical Commission and worked on a variety of public service and consulting projects.