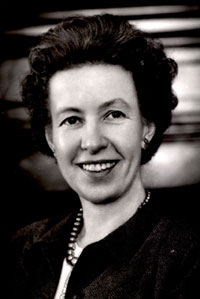 1907-2004
Rosemary Park lives on at Connecticut College in its buildings, in its faculty and in the generations of students who have profited from her tenure as its 5th president. Park died April 17, 2004, at the age of 97 at her home in Los Angeles.
Linda Lear '62, author of Rachel Carson: Witness for Nature and recipient of the Goodwin-Niering Center Alumni Environmental Achievement Award in 1999, once called Park "the smartest, best woman" she had ever met. Told about the death of a woman she was friendly with for more than 40 years, Lear continued, "She was a woman of intellect and integrity, the brightest and bravest person I've known." She credited Park with modeling in her own life choices the idea that anything was possible for the bright women of Connecticut College if you worked hard and had confidence. It was a time when most women chose marriage over a career, and Park showed us that there were options and made us believe that such choices were valid."
Served as Connecticut College President from 1947-1962
Park came to Connecticut College in 1935 as an instructor in German. She became president in 1947 and left in 1962. During her tenure, she led a campus that coped with McCarthyism. It then enjoyed an intensifying interest in internationalism only to have the Cold War cast a wet blanket on it. Finally, it was buoyed by an emboldened America's entrance into the space race. At that time, Park said, "We are witnessing … the coming of age in America … the cultivation of the intellectual power in this country is about to become the outstanding form of public service, perhaps of patriotic service."
Four years later, Park took the helm at Barnard College. Behind her she left the College Center at Crozier-Williams, Warnshuis Health Center, Hale Hall, Sykes Alumnae Wing (now part of Cro), Katharine Blunt, Larrabee, Hamilton, Harris, Wright, Marshall, Lambdin, Morrisson and Park.
In her wake, the College created the Rosemary Park Fellowship for a senior going to graduate school and the Rosemary Park Professorship now held by Eugene Gallagher in religious studies.
June Macklin, Rosemary Park Professor Emeritus of Anthropology, remembers Park as an excellent speaker who could unify the campus, and who built a tight-knit learning community. "She knew everything that was going on at all levels of the college," Macklin said. "During her presidency the college was truly a family and a community." Macklin was one of the women Park hired in her 15 years as president. "What Rosemary Park did for the college," said Lear, "is that she hired wonderful women underneath her who were also role models ... They included Alice Johnson and Elizabeth Babbitt..."
During her life, Park faced issues of discrimination and diversification. Because one of her legs was much shorter than the other, her hip and back were always twisted although she hid her physical challenge well. She studied as a graduate student in Germany in the years before Hitler came to power, and there she witnessed discrimination by race. In 1959, a decade before co-education came to CC, Park oversaw the state's creation of the Connecticut College for Men, an institution that granted only graduate degrees and happened to share the faculty of the Connecticut College for Women.
A typical course load for students changed during her tenure, from five to four courses. Of the new plan, Park said, "… it will increase the intensity of learning and the effectiveness of teaching … It is a recognition on our part that college study is something more than memorizing. It is this strange kind of process we call 'thinking.' You can learn very rapidly when you're young, but to think takes time."
"She was easily the best college president I've met since I've been in academia," said Richard Lowitt, who is in his sixth decade of higher education as regents professor of history at the University of Science and Arts in Chickasha, Okla. He taught history at CC in the 1950s and then at colleges in four other states. "She was brighter than her faculty, a sharp, penetrating lady with a sense of humor and apt remarks."
Park's time at Connecticut College came to an end in 1962. A faculty farewell was held on the Mohican Hotel roof garden with poet William Meredith, then professor of English, as master of ceremonies. Park went to Barnard, and Lear went to Columbia.
"We would meet on Morningside Heights, have barbecues, sit on the fire escape and chat," recalled Lear. "This was at a time when women were not welcomed at Columbia. I was told not to bother, that I'd just get married anyway, that I was too attractive ... I had enjoyed such success and felt such self confidence because of Miss Park and Connecticut College, and then to be thrust into the graduate world, unprepared to be discriminated against, belittled, demeaned ... Women weren't aggressive then. I went home and cried." "Rosemary Park was tremendously supportive. She had seen all kinds of discrimination. This was not news to her. Yet, she was never strident about it," said Lear. "She infused you with confidence, that you could, in fact, do it."
In 1965, Park married Milton Anastos, an internationally known scholar of Byzantine history and professor emeritus of history and Byzantine Greek at UCLA. Two years later, she was named vice chancellor at UCLA and retired from the university as professor emeritus of education in 1974.
"Theirs was a wonderful, storybook romance," said Lear. Lear called on Park shortly after she was married and for years following they continued a tradition of lunching together whenever possible. "She loved California with its lush gardens and plants and was always good company, interested in philosophy, theology, ardent about the changes necessary in educational policy and always interested in what was happening at Connecticut College," Lear said.
In 1962, Park was recognized at a farewell banquet held during Reunion. An account of that event noted that she had "convinced the American business man that it does not remove the bloom from the peach to educate the American girl." Park followed with an address to CC alumnae, which cautioned them: "Beautiful as this College may be, and filled with tender memories for you, it is not a cozy, lovely playground. It is part of the attempt of the Western World to stay free."
- Nina Lentini, Associate Director of Media Relations