By Don Ferlow and Mary Kentula
Taken from December 1999 Society of Wetlands Scientists Bulletin Vol. 16 No. 4. pp. 25-26.
Dr. William A. Niering, Lucretia Allyn Professor of Botany at Connecticut College and renowned expert on wetland ecology, died suddenly on August 30, 1999, at the age of 75. He had just completed a lecture to incoming freshmen about the merits of good citizenship and environmental stewardship when he collapsed outside of the auditorium. Bill died as he had lived, active in his field and exciting students about the thrill of the natural world and the joy of learning and discovery.
Bill Niering was a virtual legend for his achievements as an environmentalist and a scientist. Though soft spoken and seemingly unassuming in his demeanor, he led a national quest to achieve natural balance in the world, and by example challenged and recruited students, colleagues, and national movers to keep pace with his endeavors and to leave the world a little better than they found it. He never talked down to people whose scientific knowledge did not match his own and explained complicated scientific topics in terms one could easily understand. Bill expressed his philosophy about the environment this way. "Each of us must realize that he or she is part of a complex living system that would continue to function quite beautifully without us and that our challenge is therefore to work toward a sustainable Earth society that mimics the natural systems around us."
During his 47-year tenure at Connecticut College, the longest tenured term held at the College, Bill Niering became internationally known for his ecological studies of systems ranging from Connecticut wetlands to the atolls in the Pacific. Bill was one of the leaders in shaping the field of conservation biology, writing more than 200 scholarly articles and books that explained the role of wetlands in the landscape for professional as well as amateur wetland enthusiasts. In the mid-60's Bill worked summers with Dr. Robert H. Whittaker studying the Saguaro in the Sonoran Desert in Arizona. In 1967 he and Whittaker received the Mercer Award from the Ecological Society of America, recognizing their work on the Saguaro as the best published research in ecology at that time. Bill was a member of the National Wetlands Technical Council as Associate Director of the Environmental Biology Program of the National Science Foundation, and a member of a number of professional societies including the Society of Wetland Scientists. Most recently, he applied his scholarship as the first editor Restoration Ecology, the journal of the Society for Ecological Restoration (SER). In 1998 SER recognized Bill's contribution to the journal and the science of restoration ecology by awarding him the John Rieger Award. Whether through his work with Restoration Ecology or in his extensive list of papers related to restoration of both wetlands and uplands, Bill's active participation and willingness to go the extra mile has made a significant and lasting impression in the field.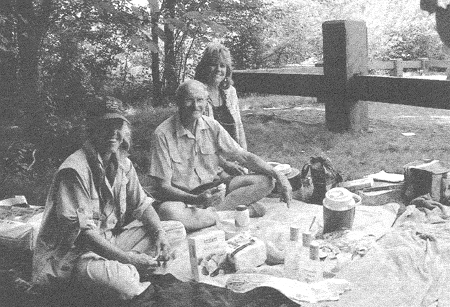 In addition to his many national and international interests, Bill served the Connecticut community in many ways and provided his expertise to help local groups deal with environmental issues. He was instrumental in preparing the groundwork for passage of Connecticut's Tidal Wetlands Act of 1969 and helped assure passage of Connecticut's Inland Wetlands Act several year later. He was a founder and director of the Goodwin-Niering Center for Conversation Biology and Environmental Studies, co-founder of the Connecticut Chapter of the Nature Conservancy, research director of the Connecticut College Arboretum, and a member of the Connecticut Department of Environmental Protection Open Marsh Management Commission. In 1998 he received the Governor's Environmental Award. Furthermore, Bill extended his work for Connecticut beyond the United States. He had recently returned from Costa Rica where he had concluded an agreement to plant 10,000 trees on 36 acres of pasture land to compensate for carbon dioxide emissions at the Connecticut College campus.
Always the consummate teacher, Bill could often be found in the early morning trampling through a marsh with students. Those students also included colleagues, who valued time in the field with a master of his craft. In recognition of his dedication to education, Bill received the Garden Club of America's Margaret Douglas Award for Conservation Education in 1995.
Dr. Claire L. Gaudiani, Connecticut College president, summed it up when she said of Bill Niering, "his generosity of spirit, his enthusiasm and his modesty were legendary." So those of us who knew Bill can only add a farewell to a friend, teacher, and mentor. We will miss him but will always remember the great times slogging through wetlands.
- Don Ferlow and Mary Kentula with supporting information from The Connecticut College Voice, New London Day, the SER News, and The New York Times.