Connecticut College News
Back to Current News
All three Fulbright winners will head to Germany
05/20/2009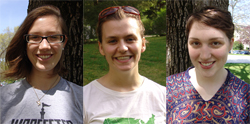 Seniors Jessamyn Cox (left), Lucy McAllister (center) and Julia Norton have been awarded Fulbright grants for teaching and research in Germany.
Three graduating Connecticut College seniors have been selected to receive prestigious U.S. Fulbright Student Program grants to live, teach and conduct research abroad for an academic year. All three will head to Germany to teach English and pursue independent projects.
Each year, approximately 1,150 students are awarded Fulbright grants. Fulbright fellows receive round-trip transportation to the host country, a living stipend, research allowances and medical insurance. In addition to research, grantees are encouraged to get involved in cultural and community activities, such as teaching English or American Studies, volunteering with a non-profit organization or giving presentations to local groups or in schools. Connecticut College has been in the top level of colleges and universities whose students and recent alumni receive Fulbright awards, with 13 winners in the last three years.
Jessamyn Cox, a double major in German studies and art history from Rutland, Mass., will teach English and start an afterschool program that focuses on American art. "I will pick a different artist to talk about each week, discuss the life and development of the artist and guide the students in an art project to recreate the works of the artist," Cox said. She also hopes to be involved with a youth running or track and field program in Germany. Cox, who is graduating with a certificate from the College's Toor Cummings Center for International Studies and the Liberal Arts, is considering pursuing a graduate degree when she returns to the United States.
Lucy McAllister, a double major in German studies and environmental studies from Boulder, Colo., will teach English at a German school and start an English-language newspaper focusing on the environment. "I will be able to combine my interests in writing and in the environment," McAllister said. "I would like to take students out into the community to conduct interviews, as well as organize day trips, so the students can report on everything from social and environmental theater to wind farms." McAllister plans to eventually pursue a graduate degree in environmental law or environmental policy.
Julia Norton, a double major in German studies and international relations from Rockport, Mass., will teach English and plans to use theater to start conversations about difficult social issues in Germany, like immigration. "The school system tracks children from an early age, and since immigrants often don't have the language skills, they are tracked to go on to vocational training rather than higher education," Norton said. "I'm hoping theater will give these marginalized groups an opportunity to showcase themselves." Norton, who is graduating with a certificate from the College's Holleran Center for Community Action and Public Policy, hopes to pursue theater and further research Germany's immigrant population after completing her Fulbright fellowship.
For media inquiries, please contact:
Deborah MacDonnell (860) 439-2504, dmacdonn@conncoll.edu
You might also like...