Connecticut College News
Back to Current News
Art in full color: Professors' sculptures and paintings on display
01/21/2009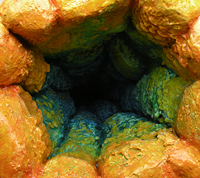 "Degree of Manifest" by Gregory Bailey, assistant professor of art.
NEW LONDON, Conn. - The intellectually engaging sculptures of Gregory Bailey, the jewel-like landscapes of Barkley Hendricks and the luminous beeswax paintings of Timothy McDowell will be on display at Connecticut College until March 4 in an exhibition that highlights the talents of three of Connecticut College's most renowned artists. The professors will display their work in the Manwaring Gallery and Gallery 66 in the Cummings Arts Center at Connecticut College beginning Jan. 28.
Bailey, an assistant professor of art, creates his sculptures around the theme of the planet's ability to sustain human life in the future. His large-scale sculptures and installation art are on view at Sculpture Walk in Kingsport, Tenn. and at the Sculpture Festival in Woodstock, Vt.
"The theme of my artwork is the intellectual and emotional response to the predictions of the future regarding the planetary sustainability of human life," Bailey said.
Bailey's sculptures invite the viewer to engage in an intellectual conversation based on the artist's own observations and research.
Hendricks, professor of studio art, is wrapping up his year-long retrospective exhibition at the Contemporary Arts Museum in Houston after touring at the Nasher Museum of Art at Duke University, the Studio Museum in Harlem, the Santa Monica Museum of Art and the Pennsylvania Academy of the Fine Arts. Favorable reviews of the exhibition - which features stunning, life-sized portraits of people of color from the urban northeast - have recently appeared in the New York Times, Newsweek, Time Out New York and Art in America.
Hendricks said his art can best be described with the same words the late Charles Mingus used to describe his music: "My music is as varied as my feelings are, or the world is, and one composition or one kind of composition expresses only part of the total world of my music."
Hendricks is also known for his landscape paintings and lush depictions of the island of Jamaica, which will take center stage in the faculty exhibition.
McDowell, a professor of studio art whose paintings and watercolors are currently in an exhibition at the University Of Maine Museum Of Art, is recognized as a virtuoso in encaustic painting. His works borrow from botanical imagery, Asian brush paintings, Tibetan iconography and 19th century American landscape painting.
Gallery hours are Monday to Friday, 9 a.m.-5 p.m. and Saturday and Sunday 1-4 p.m. For more information, contact the Art Department at 860-439-2740.
For media inquiries, please contact:
Amy Martin (860) 439-2526, amy.martin@conncoll.edu
You might also like...