Connecticut College News
Back to Current News
Camel makeover: College's mascot to get a new look
12/7/2009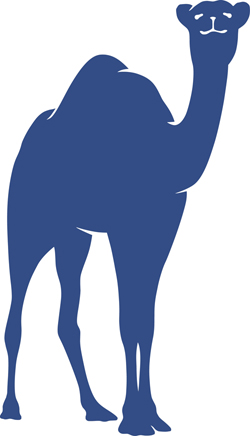 Connecticut College's official camel, above, will be redesigned by Ohio-based Rickabaugh Graphics, with input from students, alumni and members of the Connecticut College community
Connecticut College's 40-year-old camel mascot is getting a new look. The college has hired designer Eric Rickabaugh of Ohio-based Rickabaugh Graphics, to redesign the camel and strengthen the school's overall athletic identity, including its varsity letter.
"Our student-athletes and coaches are very excited for this process to unfold," said Fran Shields, the Katherine Wenk Christoffers '45 Director of Athletics and chair of the physical education department. "We're pleased that the project will hold on to the tradition of the Camel while at the same time revitalizing our look as we take our athletics program to the next level."
A leader in collegiate identity design, Rickabaugh and his award-winning team of designers have created more than 100 university brands and 500 collegiate logos, including a sand shark, a road runner and a rattlesnake, as well as a veritable menagerie of bears, mountain lions, hawks and huskies. The process of designing a new camel has already begun.
Last week, the college sent an online survey to students, alumni and others in the college community to gather feedback on the traits and characteristics they would like to see in the new camel. The new camel and athletic branding will debut April 5, a date that marks the 99th anniversary of the founding of the college and the launch of events leading up to the Centennial in 2011. At the same time, the college will introduce a new logo or academic mark that will complement its traditional seal, in use since 1911.
The two initiatives are part of a year-long project that will provide additional graphic tools for visually representing "Connecticut College" to the world: in print, on the Web and in many other uses from T-shirt designs to campus vehicles. Connecticut College is one of only two schools in the country with a camel mascot. As a member of the New England Small College Athletic Conference, the college competes in a league that has a long tradition of quirky mascots, including an elephant, a mule, a polar bear and a bantam.
For media inquiries, please contact:
Amy Martin (860) 439-2526, amy.martin@conncoll.edu
You might also like...