Connecticut College News
Back to Current News
Class of 2013 makes YouTube debut
09/22/2009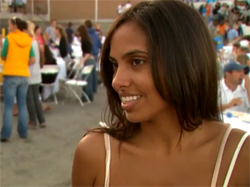 Justine O'Sullivan '13, a native of New York City, says she loves the scenery at Connecticut College.
The Class of 2013 has only been on campus for a few weeks, but already they are making their mark. A new video on Connecticut College's YouTube channel shows how the newest Camels are enjoying classes, meeting new friends and settling in to campus life.
"Connecticut College is a really easy place to make friends, and great for mingling and meeting new people," Robert Ballesteros '13 said.
Alexandre Guttmann '13 says he has met friends from all over the world, including Singapore, Bulgaria and Tunisia, while Matt Larkin '13 said that he enjoys his classes and his professors.
For Justine O'Sullivan '13, Connecticut College is very different from her home town of New York City.
"It's a giant change," she said. "It's a lot to get used to, but I'm loving the different scenery."
To see more Connecticut College videos on YouTube, visit www.youtube.com/ConnecticutCollege.
For media inquiries, please contact:
Amy Martin (860) 439-2526, amy.martin@conncoll.edu
You might also like...