Connecticut College News
Back to Current News
College supports fictional professor up for best acting Oscar
02/16/2009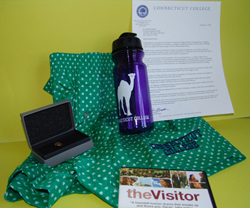 The College sent Jenkins a water bottle to keep him hydrated on Oscar night, a lapel pin with the College seal so he can look dapper on the red carpet, and a pair of Connecticut College boxer shorts for good luck.
The College is rooting for the Best Actor Oscar to go to the underdog, Richard Jenkins, for his portrayal of a Connecticut College professor in The Visitor.
Jenkins' character would never make it at the real Connecticut College, Dean of the Faculty Roger Brooks notes in a letter to the actor. But he goes on to say that the College is rooting for his victory.
Jenkins has appeared in numerous films, but this is his first leading role -- and his first trip to the Oscars. This year's awards show is Sunday, Feb. 22.
He told the Associated Press in a recent interview that his nomination was unbelievable. "This happens to other people, not to me," he said. When Whoopi Goldberg asked him on The View recently if he had a shot at winning, Jenkins replied, "Not a chance in the world."
The College's communication office sent Jenkins a Connecticut College water bottle to keep him hydrated on Oscar night, a lapel pin with the college seal so he can look dapper on the red carpet and a pair of four-leaf clover Connecticut College boxer shorts -- for good luck.
Brooks' open letter to Jenkins:
Dear Mr. Richard Jenkins,
Congratulations on being the first fictional "Connecticut College professor" nominated for an Academy Award! We've had professors win Pulitzers, Fulbrights and Bessies, but this is the first Oscar. (Although we do have alumni who keep company with that famous golden statue.)
Needless to say, we here at Connecticut College are crossing our fingers for you. We know you are up against a professional wrestler, a man who ages backwards, a U.S. president and the first openly gay man to be elected to public office in California, but we think you should win.
Now, we must remind you that your character was not a good professor - no offense. Walter Vale is certainly not representative of our dedicated, engaged and highly accomplished faculty. We are hoping that when Professor Vale returns to the college after his unplanned leave and life-altering experience, however, he rediscovers the passion for intellectual discovery and pedagogy that motivates Connecticut College faculty.
In fact, we think that Professor Vale will have quite the epiphany upon his return to Connecticut College. Here are some things we think the new-and-improved Walter Vale will be happy to learn:
- Connecticut College offers the kind of rigorous academic environment that will allow his students to flourish in and out of the classroom, studio, and lab.
- He can become the type of engaged professor for which Connecticut College is known by taking advantage of the college's innovative Center for Teaching and Learning.
- He can organize a teaching trip to Syria, where he will accompany about a dozen students for a full semester of study and cultural immersion.
- Connecticut College has students from more than 70 different countries, so he will be surrounded by cultural diversity.
- And finally, a collection of African drummers gathers on campus every Wednesday for a West African dance class open to the entire community. He can play, or work on his not-so-perfect dance skills!
But that's beside the point. You're up for an Oscar! We want to make sure that luck is on your side, so our college's communications team put together a little package of Connecticut College keepsakes that will bring you some camel-style good fortune.
Sincerely,
Roger Brooks, Dean of the Faculty at Connecticut College
For media inquiries, please contact:
Amy Martin (860) 439-2526, amy.martin@conncoll.edu
You might also like...