Connecticut College News
Back to Current News
College's MLK award-winners interviewed live on Fox 61 News
02/18/2009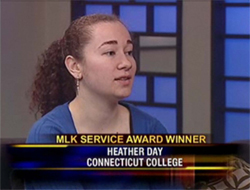 Heather Day '09 and Sunil Bhatia, associate professor of human development, were interviewed live today on WTIC-TV Fox 61 News. Both winners of the college's Dr. Martin Luther King Jr. Service Awards, Day and Bhatia spoke about their own commitment to social justice and racial equality.
For more about this year's Dr. Martin Luther King Jr. Service Award winners, visit http://aspen.conncoll.edu/news/5018.cfm.
Yesterday, Connecticut College's environmental and sustainability initiatives were highlighted in a WTNH-TV Channel 8 (ABC) news segment. Tyler Dunham '09 discusses the college's participation in the national RecycleMania competition and Amy Cabaniss, campus environmental coordinator, is interviewed about the college's efforts to offset energy usage.
For media inquiries, please contact:
Deborah MacDonnell (860) 439-2504, dmacdonn@conncoll.edu
You might also like...