Connecticut College News
Back to Current News
Connecticut College brings arts and technology to life
01/22/2009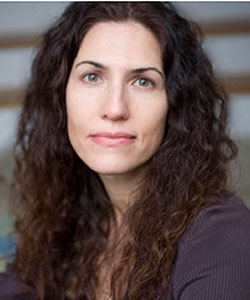 Allison de Fren, Mellon Postdoctoral Fellow at the Ammerman Center
NEW LONDON, Conn. - The Ammerman Center for Arts & Technology at Connecticut College is breaking all the rules -- combining computers with dance, music with science and turning weather into sound -- during the "Studio Works Colloquia Series" beginning Jan. 29. All lectures begin at 4:30 p.m. in Room 014 of the F.W. Olin Science Center on the Connecticut College campus and are free and open to the public.
Thursday, Jan. 29: Elaine Chew, professor of industrial and systems engineering and electrical engineering at the University of Southern California will explore the roles of engineer as artist and artist as engineer in "Musical Science and Engineering Art."
Wednesday, Feb. 25: Allison de Fren, Mellon Postdoctoral Fellow at the Ammerman Center, examines the way in which women are represented in film and other media in "Disarticulations of the Artificial Woman."
Wednesday, March 25: Rachel Boggia, visiting assistant professor of dance at Wesleyan University, presents "Getting a Handle on Subjectivity: Remediating Akira Kurosowa's Rashomon through Improvisational Interactive Performan (and other stories of dancers messing with computers)," which explores computer use in improvisational and interactive performances.
Wednesday, April 22: Andrea Polli, director of interdisciplinary film and digital media at the University of New Mexico, presents her short documentary "Ground Truth," a look at real-time sonic and visual representations of Arctic weather patterns.
The Ammerman Center, one of four interdisciplinary centers on campus, crosses the divide between technology and the arts, fostering a symbiotic relationship that encourages a combination of the disciplines. To encourage imaginative, as well as speculative, thinking about the use of technology in the arts, the Center also sponsors colloquia, symposia, special events, exhibitions, performances and interactions with visiting scholars.
About Connecticut College
Situated on the coast of southern New England, Connecticut College is a highly selective private liberal arts college with 1900 students from all across the country and throughout the world. On the college's 750-acre arboretum campus overlooking Long Island Sound, students and faculty create a vibrant social, cultural and intellectual community enriched by diverse perspectives. The college, founded in 1911, is known for its unique combination of interdisciplinary studies, international programs, funded internships, student-faculty research and service learning.
For more information, visit www.conncoll.edu.
-- CC --
For media inquiries, please contact:
Deborah MacDonnell (860) 439-2504, dmacdonn@conncoll.edu
You might also like...