Connecticut College News
Back to Current News
Danú Traditional Irish Ensemble brings the music of Ireland to onStage at Connecticut College
02/19/2009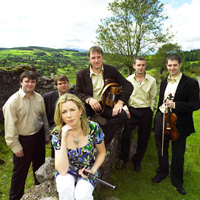 Danu Traditional Irish Ensemble. Photo by Colm Henry.
NEW LONDON, Conn. - Danú Traditional Irish Ensemble embodies the musical vibe of Ireland -- the standing-room only pubs, the floor-shaking tempo and the ancient staccatos of the tin whistle and fiddle. Hailing from County Waterford, Ireland, this award-winning group joins the onStage at Connecticut College season March 5 at 8 p.m. in John C. Evans Hall, Cummings Arts Center.
For more than a decade, Danú has toured throughout Europe, the Middle East and North America. Their program, which The Irish Times has called "a spirit raising concoction," combines both the traditional -- such as "Mollai Na Gcuach," a Gaelic lament which translates to "Curly-haired Molly" in which the singer vows never to drink again -- and the new, including "The County Down," voted Best Song at the 2004 BBC Folk Awards. Lead vocalist Muireann Nic Amhlaoibh plays flute and whistles. She is accompanied by Benny McCarthy on button accordion, backing vocalist Oisin McAuley on fiddle, Eamon Doorley on the Irish bouzouki, Donal Clancy on guitar and Martin O´Neill on the bodhran (Irish drum).
For more information or to purchase tickets, call (860) 439-ARTS, visit http://onstage.conncoll.edu or visit the Connecticut College Ticket Office. Tickets to the Danú Traditional Irish Ensemble are $22 for the general public, $20 for seniors and $11 for students. To listen, visit Danú on MySpace at http://www.myspace.com/danuband.
About Connecticut College
Situated on the coast of southern New England, Connecticut College is a highly selective private liberal arts college with 1900 students from all across the country and throughout the world. On the college´s 750-acre arboretum campus overlooking Long Island Sound, students and faculty create a vibrant social, cultural and intellectual community enriched by diverse perspectives. The college, founded in 1911, is known for its unique combination of interdisciplinary studies, international programs, funded internships, student-faculty research and service learning.
For more information, visit www.conncoll.edu.
-- CC --
For media inquiries, please contact:
Amy Martin (860) 439-2526, amy.martin@conncoll.edu
You might also like...