Connecticut College News
Back to Current News
Freshman athlete is 'Out for the Long Run'
05/8/2009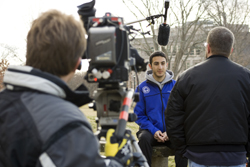 Brenner Green '12 is interviewed for the documentary film, "Out for the Long Run"
Freshman Brenner Green can run a mile in under 5 minutes. He also happens to be gay.
Tragoidia Moving Pictures, a company based in California, has been following Brenner's athletic career this year as part of a soon-to-be-released documentary "Out for the Long Run," a film about gay athletes in high school and college.
"I feel like it's such an underrepresented lifestyle to be openly gay on a college sports team," Brenner said. "I don't think people know what's its like. There's this image of athletes as heterosexual."
Brenner said one of the reasons he decided to come to Connecticut College was that he felt it was an open and accepting community. While he didn't know what it would be like on a sports team until he got here, Brenner said his teammates have been welcoming and accepting. Now, he hopes that sharing his story may help other gay athletes gain the courage to come out.
"There's always that worry: When I come out, that's final and everybody knows. Will I be the token gay person when I come out?" he said.
Occasionally, he said, his male teammates will try to include him in conversations about girls by asking him for advice. Brenner said he gently reminds them that he doesn't know anything about girls either.
"Sometimes I feel quieter in those discussions," Brenner said.
Brenner, who runs cross country, outdoor and indoor track, learned that Tragoidia Moving Pictures director/producer Scott Bloom was looking for current students to be in the film through a Facebook group. Bloom said he originally planned to focus only on high school athletes but found it was difficult to find volunteers because of the fear that permeates gay athletes in that age group.
"I'm hoping that the stories of our athletes might pave the way for openly gay professional athletes who can serve as role models for young athletes to push themselves to be not only the best competitors they can, but also the best people," Bloom said.
In the film, Brenner is featured among two Olympic Gold Medalists, two high school senior athletes, two other college freshmen athletes, two athletic families, three coaches, several heterosexual teammates and an entire high school population. The film, which also includes interviews with Brenner's parents, is set for release in Spring 2010.
"It was kind of weird having the attention on me, with people from California coming all the way to Connecticut just to film me," he said.
Brenner, who doesn't generally consider himself an activist, said being involved in the film has made him rethink the role he can play among his peers. Next year, he will be co-chair of Spectrum, an activist group on campus that focuses on gay rights. This year, the group protested in New Haven against Proposition 8, hosted a drag ball and planned a series of events around National Coming Out Day.
Bloom said Brenner is making a difference by choosing to participate in the film.
"Brenner's story shows how difficult the decision to come out can be and what the consequences can be like. It does, however, also show that in an enlightened atmosphere such as at Conn College, he thrives and changes people's notions of what being a gay man is all about," Bloom said. "His teammates all like him and include him in social activities as well as practices and meets. He is a wonderful example of how sexuality really should not matter on the field of competition."
Brenner said he hopes that because he is an athlete on campus, he will be able to increase the number of straight men on campus involved in Spectrum and also plans to host events related to athletics.
For media inquiries, please contact:
Amy Martin (860) 439-2526, amy.martin@conncoll.edu
You might also like...