Connecticut College News
Back to Current News
Junior mixes tough science course load with study abroad
05/1/2009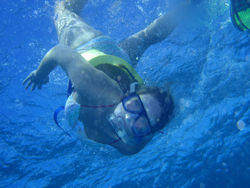 Rita Holak '10 snorkels on the Great Barrier Reef of the coast of Cairns.
Before she arrived at Connecticut College, Rita Holak '10, a double major in behavioral neuroscience and psychology, had heard that science majors often have too much on their plates to study abroad. Working to complete her pre-med requirements, Holak admits that science study can be grueling, but she wasn't going to let that stop her from spending last semester in Brisbane, Australia, a major city north of Sydney in Queensland.
With the help of Connecticut College's study-away office, Holak found a program through the Institute for Study Abroad at Butler University in Indianapolis that allowed her to take classes in a foreign country while satisfying requirements for her majors. With 40 other students from Butler's program, Holak enrolled in the University of Queensland, an extremely prestigious institution.
Abroad, Holak was able to do everything she would have done in Connecticut. While there, she took four courses, two of which counted toward her psychology major. She played basketball for Queensland (she is a captain of the women's basketball team at Connecticut College) and traveled widely.
"I went scuba diving in the Great Barrier Reef and went skydiving over the most easterly point [of Australia]. I also took a trip to Thailand over my spring break," she said. "I rode on elephants, played with tigers and rode on a bamboo raft."
In order to study abroad, Holak had to plan ahead. She even took a physics class over the summer.
"I started thinking about the classes I needed to take during freshman year, the majority of which fulfilled a requirement of some kind," she said, adding that her careful planning was worth the hassle.
"I would 100 percent recommend studying abroad," said Holak, who is also the president of the Connecticut College chapter of Habitat for Humanity. "It definitely changed my perspective. The Australian lifestyle is similar to here, but it's much more relaxed and much more about enjoying life, instead of being so stressed about everything, which I really needed."
Because Australian universities are on a different schedule, Holak was even able to return to Connecticut College in time for basketball season. Currently, the women's basketball team is in the midst of hiring a new coach, and Holak and fellow captain Emily Cummings '10 are immersed in the hiring process. They serve on a hiring committee with the athletic director, three coaches, a dean and a professor.
This summer, Holak will intern at Camp Sunshine, an organization in Maine that caters to children with terminal illnesses and their families.
"I am going to be a lead counselor and also work with the psychologist," she said.
- Laura Marenghi '12
For media inquiries, please contact:
Amy Martin (860) 439-2526, amy.martin@conncoll.edu
You might also like...