Connecticut College News
Back to Current News
Junior produces popular travel radio show
08/4/2009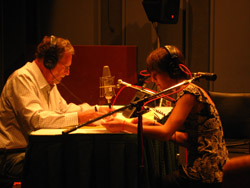 Casey Corn '10 produces a show from Canada with Peter Greenberg
When Casey Corn '10 began her New York City internship with travel editor extraordinaire Peter Greenberg this summer and learned that an upcoming show would be aired from Connecticut's Foxwoods Resort & Casino, she was thrilled to learn she would be put in charge of the popular travel segment "Ask the Locals." She knew just the New London area "local" to ask: Connecticut College President Leo I. Higdon Jr.
"I immediately thought of you," Corn wrote Higdon in an email.
By the end of the week, Higdon got back to her with his favorite local hangouts - Muddy Waters Café downtown ("the best place in New London for coffee") and, of course, the college's 750-acre arboretum.
Since the article was published, Corn said her internship just keeps getting better. Greenberg's radio show broadcasts from a different place in the world every week. Corn recently returned from Canada where she produced Greenberg's radio show on her own.
"Look at me: I started out photocopying and then got to write an article, and now I'm getting to produce a radio show…all working for about a month at this internship," Corn said.
Corn, an anthropology major, said she hopes to eventually pursue a career that deepens her knowledge of the social and cultural aspects of food and travel. Anthropology is an inherently interdisciplinary study of the human experience across space and time, and her summer internship with Greenberg gives Corn an opportunity to further explore many issues first introduced in her classes. She will be writing a senior thesis next year titled: "Liquid Gold: An Anthropological Study of Olive Oil."
"For the rest of my life, I will keep traveling," Corn said. "Because I won't feel content to die until I've made it to every place on the planet."
For media inquiries, please contact:
Amy Martin (860) 439-2526, amy.martin@conncoll.edu
You might also like...