Connecticut College News
Back to Current News
LeClair wants to bring a Connecticut College voice to the conference
12/9/2009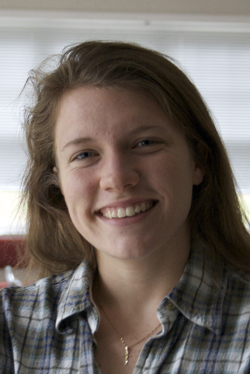 On Dec. 4, Jessica LeClair '08 stepped off an airplane in Copenhagen, Denmark, and into the excitement of the United Nations Climate Change Conference.
LeClair, the outreach and student programs coordinator in the Connecticut College Office of Volunteers for Community Service, is attending the conference with observer status.
The conference, which takes place Dec. 7-18, aims to find global political consensus to reduce greenhouse gas emissions and tackle climate change; any deal that is reached would be put in place when the Kyoto Protocol expires.
LeClair will work with the International Youth Delegation to write a declaration on climate change. In advance of her trip, she has spoken with students on campus about what they want that declaration to say.
"Connecticut College has an active, environmentally-minded student body and I would like to bring their voice to the conference," she said.
To fund the trip, LeClair received assistance from the College's Goodwin-Niering Center for Conservation Biology and Environmental Studies, the Toor Cummings Center for International Studies and the Liberal Arts, the Holleran Center for Community Action and Public Policy, the Connecticut chapter of the International Partnering Council and several individuals.
LeClair will be tweeting live from the conference. Follow her on Twitter at @jhlec.
-Phoebe Hall
For media inquiries, please contact:
Amy Martin (860) 439-2526, amy.martin@conncoll.edu
You might also like...