Connecticut College News
Back to Current News
New York Times blog features Dean Martha Merrill '84
06/23/2009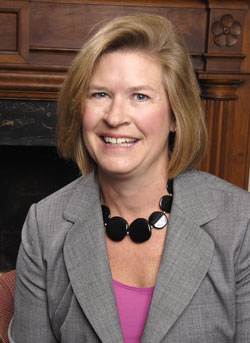 Dean of Admission and Financial Aid Martha Merrill '84
Martha Merrill '84, Connecticut College's dean of admission and financial aid, lays out her advice to applicants in the recent New York Times blog "The Choice: Demystifying College Admissions and Aid."
In her practical guide to writing the perfect college essay, Merrill advises prospective students to - first and foremost - be themselves. The college essays that stand out, says Merrill, are the ones that are written in a student's own voice, tell a story that is personal to them and don't repeat what is already in their application.
"A good essay just might be what turns a "maybe" into a 'yes,'" says Merrill.
Merrill urges students not to try to impress her. "Sometimes it's the simple things in life that make the best essays. Some of my favorites have included essays that reflect on the daily subway ride to school, or what the family goldfish observed from the fishbowl perched on the family kitchen table. It doesn't have to be a life-changing event to be interesting and informative."
For media inquiries, please contact:
Amy Martin (860) 439-2526, amy.martin@conncoll.edu
You might also like...