Connecticut College News
Back to Current News
New YouTube video highlights campus organic garden
08/19/2009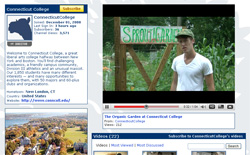 Connecticut College's 6,000-square-foot organic garden, Sprout!, is producing some very tasty-looking veggies. Jamison Hermann '11 provides an inside look at the summer crop in a new video on the Connecticut College YouTube channel.
Hermann's clip follows summer garden manager Eli Mangold '11 from the garden to the dining hall, where the crops are turned into delectable dishes for the college community. It's the most recent post on the college's YouTube channel, which features 22 college-related videos.
One of the most popular video on the channel, with more than 4,000 views, is a MTV Cribs-style look at a freshman triple in KB. The video, produced by Alyssa Shea '09, is one of seven designed to give prospective students an idea of what it is really like to live in a residence hall - from freshmen triples to swanky singles.
"We've found that prospective students want to be able to imagine themselves living on campus," Jill Grossman, Connecticut College's director of online communications, said. "These videos, all student-produced, give viewers an inside look at the variety of student rooms on campus."
Visitors to the YouTube channel will also find footage of a rare four-legged visitor, highlights from reunion and clips of Connecticut College President Leo I. Higdon Jr. discussing everything from the future of the college to his favorite place on campus. You can also find Connecticut College on Facebook and Twitter.
For media inquiries, please contact:
Deborah MacDonnell (860) 439-2504, dmacdonn@conncoll.edu
You might also like...