Connecticut College News
Back to Current News
New YouTube video shows campus beauty - from above
12/18/2009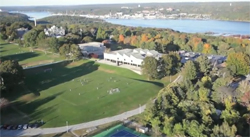 A new video posted on Connecticut College's YouTube channel takes viewers on an aerial tour of the campus. The video, taken this fall from a helicopter, shows the college's community setting and close connection with the natural world, highlighting the historic buildings, 750-acre Arboretum and sweeping views of the Thames River and Long Island Sound.
Jamison Hermann '11, an intern in the college's communications office, edited the footage.
For media inquiries, please contact:
Amy Martin (860) 439-2526, amy.martin@conncoll.edu
You might also like...