Connecticut College News
Back to Current News
Photography exhibit offers fresh perspective on Irish landscapes
09/10/2009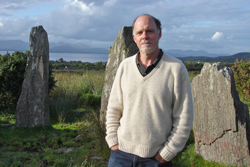 Connecticut College's Fall Faculty Exhibition features photography by featured artist Professor Ted Hendrickson, above.
From sweeping, 180-degree views of Irish farmland to color photographs exploring the seasonal changes in light and mood from one front porch in Mystic, Connecticut College's fall Faculty Exhibition, "At Home And Abroad," highlights the spectacular photography of featured artist Professor Ted Hendrickson.
The exhibition, on display in Connecticut College's Cummings Arts Center from Sept. 14 - Oct. 29, includes photographs from Hendrickson's Irish Triptych Landscape and From the Porch series. Works by professors Greg Bailey, Barkley Hendricks, Maureen McCabe, Timothy McDowell, Pamela Marks, Denise Pelletier and Andrea Wollensak will also be on display. A gallery talk and reception is scheduled Sept. 16 at 4 p.m.
Hendrickson has made five trips to Ireland, photographing landscapes in black and white using an extreme wide-angle triptych format. His work from the summer of 2008 is featured in the show.
"Time, history and change have been the themes of my work here in America and they are what compel my interest in the evolving Irish landscape," Hendrickson said. "From the traces of glacial transformations to the present, I have recorded layers of geologic and human history in a concise, laconic style without overtly injecting the drama of the picturesque or the clever abstractions of the camera's frame."
Ireland, Hendrickson said, is rich with remains of Neolithic tombs, Bronze Age circles and early Christian ruins, and he is drawn to the rugged beauty and the lure of these ancient sites.
"Preserved by cultural traditions and, to a degree, by the stagnation of past poverty, these markers inform the landscape with its story in a very physical sense," he said.
This past summer, Hendrickson and his wife traveled to southern Ireland to photograph the rich farmlands in the region, which are dotted with evidence of Neolithic and Bronze Age cultures. Capturing these thought provoking and impressive photographs wasn't always easy, however.
"We found ourselves crawling over or under barbed wire and electric fences, hopping hedge rows and had an occasional run in with the local bovine population," Hendrickson said.
The exhibition will also include a series of color photographs taken from Hendrickson's front porch in Mystic, Conn.
"I set out to capture light and mood as the year progressed," Hendrickson said. "It was a modest goal, but it surprised me with its impact."
For media inquiries, please contact:
Amy Martin (860) 439-2526, amy.martin@conncoll.edu
You might also like...