Connecticut College News
Back to Current News
Professor wins Alice Davis Hitchcock Book Award
04/28/2009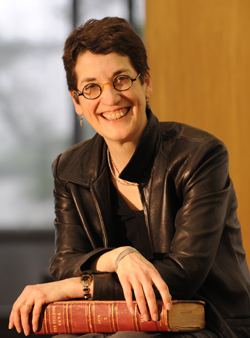 Abigail Van Slyck, the Dayton Professor of Art History, chair of the Department of Art History and director of Architectural Studies, has been awarded the Alice Davis Hitchcock Book Award from the Society of Architectural Historians for her book, "A Manufactured Wildness: Summer Camps and the Shaping of American Youth, 1890-1960," published by the University of Minnesota Press in 2006. The book was previously awarded the Abbott Lowell Cummings Prize. Van Slyck is only the second author ever to receive both awards.
"Earning both awards is almost unprecedented," Van Slyck said. "Needless to say, I'm deeply honored to have my work recognized this way by my peers."
The Alice Davis Hitchcock Book Award was created in 1949 to recognize annually the most renowned work of scholarship in the history of architecture by a North American. In "A Manufactured Wilderness," Van Slyck examines the intersections of the natural landscape with human-built forms and social activities. In particular, she addresses changing attitudes toward such subjects as children's health, sanitation, play, relationships between the sexes, Native American culture and evolving ideas about childhood.
Van Slyck has been a professor at Connecticut College since 1999 and directs the Architectural Studies Program. Her research focuses on American architecture of the 19th and 20th centuries, with particular attention to commonplace buildings and their role in shaping the lived experience of their users - men, women and children. In addition to her work on summer camps, Professor Van Slyck also has a long-standing interest in the history of public libraries, buildings shaped by on-going debates about the role of culture in a democratic society. A past-president of the Vernacular Architecture Forum, she currently serves as second vice president of the Society of Architectural Historians.
For media inquiries, please contact:
Amy Martin (860) 439-2526, amy.martin@conncoll.edu
You might also like...