Connecticut College News
Back to Current News
Professor's new book answers pressing questions about the Iraq War
12/14/2009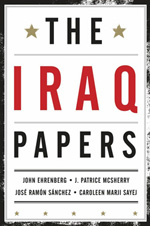 More than six years after the launch of the U.S.-led invasion of Iraq, many are still struggling to understand the conflict. A new book by Government Professor Caroleen Sayej and three co-authors, "The Iraq Papers," seeks to answer some of the most pressing questions about this controversial war and its lasting implications.
Sayej and co-authors John Ehrenberg, J. Patrice McSherry and Jose Ramon Sanchez spent two years analyzing primary sources that range from presidential addresses to redacted memos to internal security papers. Sayej examined and translated several documents written in Arabic - some more than a 1,000 pages in length - to author the book's introduction and fifth and sixth chapters, focusing on whether the conflict is a civil war and whether democratization in Iraq is homegrown.
"A civil war involves domestic infighting among groups vying for power and the reordering of the state," she explains. "The Iraq case fits this description."
She also argues Iraq's reconstruction is happening under the tutelage of the U.S., and it controls Iraq's democratization. In the book's other chapters, Sayej's coauthors analyze nearly every aspect of the conflict.
"The book shows how boundaries changed after 9/11, how there are new players and how there are new facts to incorporate," Sayej said. "It also answers several questions. How does Iraq relate to terrorism? Where were the media and Congress, and why did it occur and happen the way it did? It is a one stop shop for understanding the conflict."
Though "The Iraq Papers" does not officially hit book shelves until Dec. 15, it is already garnering attention.
"I strongly recommend this compilation to the specialist or the general reader alike - but particularly to the citizen concerned about our democratic republic," Lawrence B. Wilkerson, former chief of staff to Secretary of State Colin Powell, said in a review posted on Amazon.
Sayej and her co-authors hope their book shows the conflict's consequences and impacts current and future policy makers.
"The lessons have been costly to hundreds of thousands of people, but it is important to use the Iraq War as an example that should not be repeated," Sayej said.
Sayej's research is also generating interest in the classroom. In January, Sayej, who is new to the College, will teach her first Connecticut College courses, Comparative Politics and Middle East Politics.
For media inquiries, please contact:
Amy Martin (860) 439-2526, amy.martin@conncoll.edu
You might also like...