Connecticut College News
Back to Current News
Professor's 'Precious' commentary among top read in Chronicle of Higher Education
12/16/2009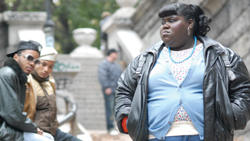 Jim Downs, assistant professor of history and American studies at Connecticut College, discusses "Precious," a popular feature film about an abused and illiterate African-American teenager, in an opinion piece published this week in the Chronicle of Higher Education. Downs' review was the top read story and the second most e-mailed on the Chronicle's site by Wednesday morning.
In the piece, Downs questions whether a movie like "Precious" can spark social change. Instead, he argues, the film is more likely to reinforce stereotypes.
"Within the context of African-American cultural production, Precious lacks the social critique and political message that defined previous landmark works," Downs writes. "Precious floats in the stratosphere of amorphous political agendas, and has a better chance of anchoring itself onto a stereotype than mobilizing a movement. While well-intentioned people may exit the theater with a genuine and heartfelt concern for young women living in the inner cities, their hopes do not have a clearly defined campaign to funnel into."
He adds, "It is more likely that Precious will become, whether intentionally or not, a powerful illustration of life among the black, urban poor. And viewers who have not been widely exposed to the varieties of humankind and the vagaries of American existence will not limit their assumptions to 'black, urban poor'; for them, to be black is necessarily to be urban and poor."
For media inquiries, please contact:
Amy Martin (860) 439-2526, amy.martin@conncoll.edu
You might also like...