Connecticut College News
Back to Current News
Pulitzer Prize-Winner Junot Diaz comes to Connecticut College Dec. 2
11/24/2009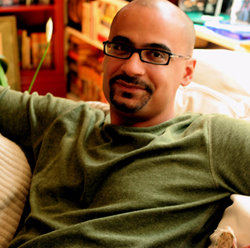 Junot Díaz, author of the 2008 Pulitzer Prize-winning novel, "The Brief Wondrous Life of Oscar Wao," will host a reading and book signing at Connecticut College Dec. 2. "The Brief Wondrous Life of Oscar Wao" chronicles the life a comic-book-loving, overweight Dominican boy growing up in New Jersey under the curse of "fukú" - a curse believed to stem from the interactions of his family with the oppressive and bloody Dominican Republican dictator Rafael Trujillo.
Díaz, a fiction editor at the Boston Review and the Rudge and Nancy Allen Professor of Writing at the Massachusetts Institute of Technology (MIT), was born in Santo Domingo, Dominican Republic, and immigrated to New Jersey with his family as a child. His fiction has appeared in The New Yorker, African Voice, Best American Short Stories and the O'Henry Prize Stories, among others. In addition to winning the 2008 Pulitzer Prize for fiction, "The Brief Wondrous Life of Oscar Wao" has earned the John Sargent Sr. First Novel Prize, the National Book Critics Circle Award, the Anisfield-Wolf Book Award and the Dayton Literary Peace Prize.
The Díaz event will cap a semester during which students have had a number of opportunities to explore the culture and issues of the Dominican Republic. The country was the focus of several courses taught this fall, including "Caribbean Communities in the U.S.: The Case of the Dominican Diaspora" and "Undocumented Hispanic Immigration," as well as the focus of several of the speakers at the college's Undocumented Hispanic Migration conference. And, in October, three students with connections to the country shared their experiences at a "Coffee G'Round the World" event.
Díaz's reading is at 7:30 p.m. in the Ernst Common Room, Blaustein Humanities Center at Connecticut College, and will be followed by a book signing and reception. The event is free and open to the public. This event is co-sponsored by the Connecticut College Department of English, Center for Comparative Study of Race and Ethnicity, Department of Hispanic Studies, and the offices of the President, Dean of Faculty, Dean of College Community and Dean of Multicultural Affairs.
For media inquiries, please contact:
Amy Martin (860) 439-2526, amy.martin@conncoll.edu
You might also like...