Connecticut College News
Back to Current News
RecycleMania spreads at Connecticut College
01/30/2009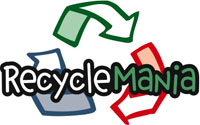 For this year's nationwide RecycleMania competition, sophomore Sally Zuar has a plan to give Connecticut College the edge it needs.
"We hope to have a contest where each dorm will make a statue out of waste materials, and we'll judge each statue and give out a prize," she said. "This will significantly cut down on trash and hopefully give us a huge leg up this year."
Last year, Zuar said, a group tried making a giant tree on Larrabee Green from recyclables and wire, but it didn't end up raising the awareness they'd hoped because a storm came and blew it over. Of course, the students did recycle all the materials.
Connecticut College took eighth place last year in RecycleMania - which this year has grown to 510 colleges and universities going head to head to see who can reduce, reuse and recycle the most campus waste. This is Connecticut College's fourth year in the competition, which includes a tally of recycled paper, glass, aluminum, steel, plastics and organics generated on campus. With one week gone in this year's competition, Connecticut College leads the pack at No. 6.
"RecycleMania is a great opportunity to foster awareness, enthusiasm and the competitive spirit on campus," said Amy Cabaniss, campus environmental coordinator. "Each year we've participated we've done well, as shown both in the rankings with other colleges and in the spikes in our recycling rate as more material is diverted from the waste stream. We have a campus that cares, and this competition serves as a rally point."
To put it another way, by the end of March, every employee and student at Connecticut College will know his or her weight in recyclables. Last year, Connecticut College recycled 44.83 pounds per person and 40.36 percent of the solid waste generated on campus during the 10-week competition.
"Conn is a recycling leader because we have administrators, faculty, staff, and most importantly students who care about the environment," said Patrick Wallace '09, environmental affairs representative for the Student Government Association. "As someone who is heavily immersed in the environmental scene on campus I am always surprised by the enthusiasm and creativity of the students, and by the willingness of the faculty, administration, and staff to help make students' ideas a reality."
Wallace said that if Connecticut College hopes to beat last year's ranking, the campus will need to try even harder to cut down on what is thrown away. One of the best ways to do that, he said, is to make sure everything that can be recycled is recycled: bottles and cans, number 1 and 2 plastics and mixed paper.
"A good rule of thumb to go by if you're not sure if something is 'mixed paper' is to see if you can rip it. If you can, and if doesn't have any plastic on it, the chances are pretty good that you can recycle it," Wallace said.
He also urged everyone to be on the lookout for areas on campus that are missing recycling bins. Anyone in need of a recycling bin can contact their house environmental representative or Patrick Wallace at pwallace@conncoll.edu.
RecycleMania began in 2001 and is organized and operated by university recycling coordinators and endorsed by the U.S. Environmental Protection Agency's WasteWise program, the National Recycling Coalition's College and University Recycling Council (CURC), and the National Wildlife Federation's Campus Ecology Program. For more information about Connecticut College's environmental efforts, visit http://greenliving.conncoll.edu/. For more on RecycleMania, visit www.recyclemaniacs.org.
For media inquiries, please contact:
Deborah MacDonnell (860) 439-2504, dmacdonn@conncoll.edu
You might also like...