Connecticut College News
Back to Current News
Road trip to Russia: 12 students, a professor and a baby
03/12/2009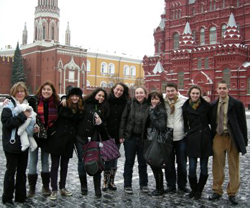 Professor Andrea Lanoux (far left, holding 9-month-old Scarlett), poses with students in Russia.
They are simple assignments: buy groceries, purchase a souvenir, order dinner. The tricky part? Everything is in Russian. That is the task at hand for the 12 students traveling through Russia this week with Andrea Lanoux, associate professor of Slavic studies, and her 9-month-old daughter Scarlett. And they´re sharing their experiences with the world through a blog. The pinnacle of Lanoux´s Elementary Russian course sequence, the 10-day trip takes students through Moscow, St. Petersburg and Novgorod, and is designed to place them squarely in the mainstream of everyday Russian life. "The trip strikes a balance between ´universal´ experiences - buying groceries, browsing at a bookstore, seeing a movie, meeting with people at a local café - and culturally-specific activities, like observing International Women´s Day on March 8, making pelmeni (a famous Russian cuisine) and going to the public baths," Lanoux said. To see the trip itinerary, click here. On the "Trip to Russia 2009" blog, students describe the thrill of touring the Moscow Kremlin, the excitement of shopping in Moscow´s largest open air market and the allure of meeting U.S. Ambassador to Russia John Beyrle. Baby Scarlett even helped one student learn a lesson about Russian culture. While carrying the child, the student remarked that she might get strange looks if people assumed she was a teenaged mother. Not so, Lanoux told her, as it is perfectly acceptable for a woman of 19 to have a child in Russia. "That was a bit of a culture shock," the student wrote in a blog entry.
For media inquiries, please contact:
Amy Martin (860) 439-2526, amy.martin@conncoll.edu
You might also like...