Connecticut College News
Back to Current News
Slideshow: summer in the science labs
07/16/2009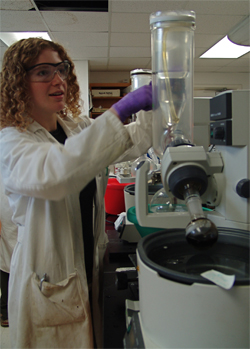 Sarah Spiegel '11 is one of several students spending their summers in the lab. Photo by Lilah Raptopoulos '11
In mid-May, most Connecticut College students pulled the poster putty from their dorm room walls and moved home. But a few stayed, walking the contents of their rooms a few yards north or east into summer housing in Hamilton or Abbey House.
These students are doing a variety of things, from paid internships through the College's career office to aiding professors in book transcriptions or working jobs in the library, admission office or in downtown New London coffee shops.
But the biggest gang are the 20 science students who receive free housing and a $3,000 stipend to complete research projects with their professors. Don't know what "preparation of manganese oxide nanoparticles" means? Sometimes a picture really is worth a thousand words.

View slideshow.


For media inquiries, please contact:
Amy Martin (860) 439-2526, amy.martin@conncoll.edu
You might also like...