Connecticut College News
Back to Current News
Sprout! organic garden manager battles rain
07/16/2009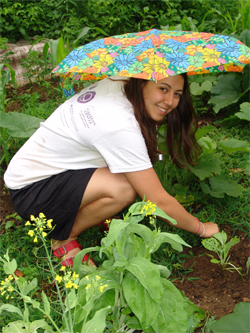 Natalie Theys '11 weeds the Sprout! organic garden under cover of an umbrella.
When Natalie Theys '11 decided to take the summer garden manager position for the Sprout! organic garden, she never imagined she'd be weeding with an umbrella.

As she stooped to pluck a weed from a row of corn recently, thunder threatened overhead. The only thing more rampant than the lettuce was the mud.

"My clothes are disgusting. No lies. I wore sneakers in the beginning, but I actually had to throw them away," she said, grinning.

There's no denying that it has been a wet couple of months here at Connecticut College. Meteorologists have reported that the month of June had twice the average rainfall.

The garden sells organic produce to the College's dining halls (340 pounds last year). The summer program, which provides critical care for veggies and other plants over the break, is funded by a gift from former College Trustee Mary Lake Polan '65 P'02 & '10 through the Bennack-Polan Foundation.

"The rain has been good and bad," Theys said. "Some of the cooler weather crops have been doing really well, like the kale and turnips."

As for tomatoes and other sun-loving vegetables, well, they've barely managed to get off the ground. "I think they´re confused about what season it is," said Theys, who has been cataloging her adventures in the Sprout! blog.

Ground Supervisor James Luce said that there's still hope for the sun-loving crops. The Sprout! method of planting in mounds and using organic mulch has helped with drainage and prevented water from splashing on the leaves. And on the plus side, he said, nobody has had to water anything.

Theys - who interned at Yale Botanical Gardens last year and volunteered through the College's Office of Volunteers for Community Service at F.R.E.S.H., New London's gardening cooperative, her freshman year - has managed to work through it all and still produce vegetables for the dining halls.

"A garden really can be a focal point for an entire community," she said. "It's important. It applies to everybody. Everybody cares about what they eat."
For media inquiries, please contact:
Amy Martin (860) 439-2526, amy.martin@conncoll.edu
You might also like...