Connecticut College News
Back to Current News
Student mixes theater with virtual reality to create designer tool
05/21/2009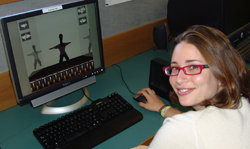 Laura Schuman ´09 demonstrates the designer tool she created.
Laura Schuman '09 was working on costumes for a main stage campus production during her sophomore year when she realized that under the stage lights, the color of one costume looked very different than they had intended. She and the costume crew were forced to re-dye the piece during a critical period in tech week -- which meant long hours and heightened expenses.
"In a flash of brilliance, I figured if there were some program to simulate what it would look like before going through all the man hours and expenses, the department would save a ton of money, not to mention waste less valuable time," she said.
Schuman decided to try designing this program herself. A theater major and music minor at Connecticut College, Schuman said, "I am not a computer science person in any sense of the word, but I had this idea. I decided that I would attempt something I had never done before."
After enrolling as a scholar in the college's Ammerman Center for Arts and Technology, Schuman worked to design pre-production tools for theater which pre-visualize the interaction between the different colors and angles of lights on costumes and set materials. The program imitates a stage setting and the interface of a lighting control board.
At the Ammerman Center's Certificate Program Senior Show May 8, Schuman's project was on display and available for use along with other senior projects, including a 3D interactive children's book, a music-based computer game, an interactive biology game and films that included live action, special effects and animation. As she demonstrated, a figure in a purple dress moved onto the screen with a click of the mouse. Below, the user could easily control various lighting effects. Under the wrong lighting conditions, Schuman demonstrated, the purple dress could easily become a bright magenta.
"This project was a great learning experience for me and I would highly recommend the Ammerman Center program to other students who, like me, have a good idea pop into their head. The professors are there to help walk you though the steps and plan out the idea more concretely," said Schuman.
After graduation, Schuman hopes to work in some area of the theater field, either in directing, stage management or electrics.
- Claire Gould '10
For media inquiries, please contact:
Amy Martin (860) 439-2526, amy.martin@conncoll.edu
You might also like...