Connecticut College News
Back to Current News
Student written play for Black History Month explores "privilege"
02/20/2009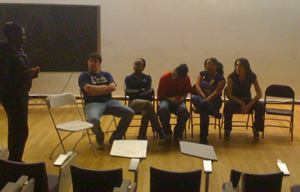 Students rehearse "Privileged"
Freshman Loretta Vereen has a story to tell for Black History Month, and she has chosen to tell it on stage.
In November, Vereen approached the Black History Month committee and volunteered to write and direct a play that would speak to the themes of privilege and diversity that define the month of February. A month later, Vereen had completed "Privileged," the story of 10 inner city high school seniors of various races. Through a seminar led by their guidance counselor, the pupils learn to appreciate their upbringing and skin color. The free play will be performed Feb. 21 at 7 p.m. in Evans Hall, Cummings Arts Center.
"The message throughout it all is the privilege of being underprivileged," said Vereen. "My goal in writing this is not just to write a little play about these students. I really want the audience to think as well. I like to impact people, so hopefully through the play that'll happen."
Originally, Vereen intended to focus her script on the fictional nephew of Troy Davis, an African-American man facing the death penalty in Georgia despite what many say is strong evidence suggesting that he is innocent. While the plot has changed, Davis' nephew remains incorporated into "Privileged" as one of the 10 students.
Vereen first became involved in theatre during her junior year of high school, when she wrote two short pieces for a youth theatre organization in her community. She is already working on another play, entitled "Church People," which will be performed in her hometown of Bridgeport, Conn., over the summer.
- Laura Marenghi '12
For media inquiries, please contact:
Deborah MacDonnell (860) 439-2504, dmacdonn@conncoll.edu
You might also like...