Connecticut College News
Back to Current News
The class of 2009 to graduate May 17
05/11/2009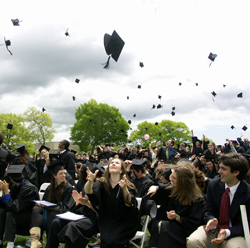 Nearly 450 Connecticut College students will receive their diplomas this year at the college's 91st commencement on Sunday, May 17, at 11:30 a.m. A crowd of more than 4,000 is expected at the event, which will be held on the college's Tempel Green. In case of rain, it will take place in Palmer Auditorium.
Philosopher, feminist and master of intellectual debate Martha Nussbaum, the Ernst Freund Distinguished Service Professor of Law and Ethics at the University of Chicago, will give the keynote address. An activist and critic, Nussbaum has long advocated for the importance of an education in the liberal arts.
President Leo I. Higdon will address the newest alumni. Nicholas Downing of Pittsfield, Mass., president of the senior class, and Peter St. John of Essex, Mass., will also address their peers.
For the 17th year, each graduate will be presented with a sapling during Commencement exercises. The sapling represents the tree on the College seal and each student's continuing connection to the College. Since the first year of the tradition, nearly 7,000 saplings have been distributed.
A picnic for all Connecticut College community members and guests will be held on Library Green after the ceremony.
For more information and a full schedule of events, visit the 91st Commencement Web site.
For media inquiries, please contact:
Deborah MacDonnell (860) 439-2504, dmacdonn@conncoll.edu
You might also like...