Connecticut College News
Back to Current News
Two history professors awarded NEH fellowships
10/14/2009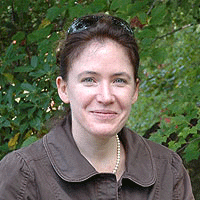 Eileen Kane is one of two Connecticut College professors who have earned NEH Fellowships this year.
The National Endowment for the Humanities has awarded fellowships to professors Eileen Kane and Sarah Queen for special research projects in the humanities.
Kane, an assistant professor of history at Connecticut College, will use the fellowship to take leave in 2010 to complete her book manuscript, "Russian Hajj: Imperialism and the Pilgrimage to Mecca, 1801-1917," a first-ever history of the hajj, or Muslim pilgrimage to Mecca, in tsarist Russia.
Kane, who teaches modern European history at the College and specializes in imperial Russia, will spend her leave writing and conducting final archival research in Russia and Ukraine. Previously, she has conducted research for her book in archives and libraries in Turkey and Georgia.
"My book looks at the hajj as a central feature of Russian imperialism in the last fifty years or so of the empire's existence," Kane said. "By tapping into the enormous hajj traffic moving through its southern borderlands, Russia was able to extend its reach into new areas of imperial interest abroad where it had no other business being - places like the Arabian peninsula, the Persian Gulf and British India. By tracing the history of the hajj under Russian rule, I am ultimately trying to illuminate the important role that Islam played in Russian empire-building."
Queen, a professor of history at Connecticut College, is translating and interpreting an ancient Chinese text, "Chunqiu fanlu" or "Luxuriant Dew of the Spring and Autumn Annals."
Queen's study will serve as the premiere introduction to one of the last monumental works of the Western Han yet to be brought to an English-speaking audience. The work, Queen said, preserves the ideas of Dong Zhongshu (ca. 195-105), preeminent Confucian statesman and philosopher of the Han dynasty, and was revered by many early Chinese thinkers because it was so closely associated with Confucius.
Queen is an expert in early Chinese cultural history, the spiritual and philosophical dimensions of Confucianism and Daoism and Confucianism in East Asia today. Her primary research examines China's philosophical and religious foundations as it was expressed in early texts written by practitioners of the Confucian and Daoist traditions. She has published numerous articles on the subject and is the author of "From Chronicle to Canon: The Hermeneutics of the Spring and Autumn Annals according to Tung Chung-shu" (1996) and co-author of the forthcoming "The Huainanzi: A Guide to the Theory and Practice of Government in Early Han China."
The National Endowment for the Humanities Fellowship Awards support scholars and artists pursuing advanced research that is of value to academics and general audiences in the humanities. Both projects are financed 100 percent with federal funds. Kane and Queen were among only 72 of 1,132 applicants to be awarded fellowship funding this year.
-Amy Martin
For media inquiries, please contact:
Amy Martin (860) 439-2526, amy.martin@conncoll.edu
You might also like...