Connecticut College News
Back to Current News
Women's Hockey prepares for first ever NESCAC final four appearance
03/5/2009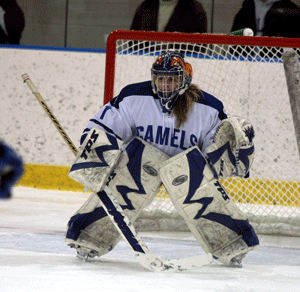 Lauren Mellen '09 had 53 saves in the Camels' 2-1 victory over Trinity in the NESCAC quarterfinals Saturday. The Camels will make their first appearance in the NESCAC final four this weekend.
Senior goalie Lauren Mellen made her 53rd save with just 25 seconds left in Saturday's quarterfinal game against Trinity securing the first ever women's hockey NESCAC playoff victory in Connecticut College history. Mellen, who was named NESCAC Women's Hockey Player of the Week, led the sixth-ranked Camels (9-13-3) to a 2-1 victory over the third-seeded Bantams, avenging two regular season losses in which Connecticut College was outscoured 7-1.
"There is no doubt that Lauren was at the top of her game this weekend," head coach Kristin Steele said. "She gave us a fantastic effort and held strong under extreme pressure from Trinity."
The Camel's goals were scored by sophomore Brigid O'Gorman and junior Erin Davey, who earned NESCAC Player of the Week honors Feb. 2. O'Gorman put Connecticut College on the board first, finding the back of the net in the first period. In the second period, Davey gave the Camels the lead for good with her 14th goal of the season.
This weekend, the team will make its first appearance in the NESCAC final four at Amherst College. The Camels will take on top-ranked Amherst at noon on Saturday. The winner will play for the championship Sunday at 2 p.m.
For media inquiries, please contact:
Deborah MacDonnell (860) 439-2504, dmacdonn@conncoll.edu
You might also like...