Connecticut College News
Back to Current News
3 win Fulbright awards
05/21/2010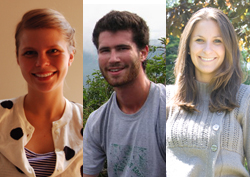 Ivy Chippendale ´09 (left), Jacob Daniels ´08 (center) and Johanna Gregory ´10 (right) have been awarded 2010 Fulbright fellowships.
A Connecticut College senior and two recent alumni have been selected to receive U.S. Fulbright Student Program grants to live, conduct research and teach abroad for an academic year. Ivy Chippendale, a 2009 Connecticut College graduate, has won a Fulbright Research Award for an independent study in Italy. Jacob Daniels, a 2008 Connecticut College graduate, and senior Johanna Gregory have been awarded Fulbright English Teaching Assistantships. Daniels will teach at Vietnam Maritime University in Haiphong, Vietnam, and Gregory will teach at a high school in Germany. Fulbright Fellows receive round-trip transportation to the host country, a living stipend, research allowances and medical insurance. Each year, approximately 1,150 students are awarded Fulbright grants. Connecticut College is consistently recognized as a top producer of Fulbright Fellows, with 17 winners in the past four years. Chippendale´s Fulbright Research Award is the first for the college since 2006. "Research Awards to major European countries are extremely competitive," Associate Dean of Studies Philip Ray, who serves as the campus adviser for the Fulbright Fellowship program, said. "This is a great honor for Ivy and we are very proud of her and all of our Fulbright Fellows." Ivy Chippendale ´09, Fulbright Research Award, Italy Chippendale, who currently lives in New York City and works for a nonprofit organization that provides services to the homeless, plans to spend the year researching the correlation between Sicilian food culture and HIV opportunistic illness specific to the region. "I will be working with ANLAIDS, an AIDS organization in Palermo, Italy, to better understand the ways that food can be an important preventive measure against co-infection in a region where eating and cooking are at the heart of daily life," she said. While at Connecticut College, Chippendale majored in Italian and self-designed a second major in Medical Anthropology. She completed an honors thesis on the relationship between food insecurities, poverty and HIV in New London, Conn. Jacob Daniels ´08, Fulbright Teaching Assistantship, Vietnam Daniels, who majored in government at Connecticut College, has been traveling and living abroad since his graduation. "I went to Korea to teach in the winter of 2008 and 2009, and then to Cambodia where I taught at the Pannasastra University of Cambodia and studied Buddhist philosophy," Daniels said. "I´m currently traveling in India." While in Cambodia, Daniels founded Cambodian Threads, a socially responsible company that sells fairly traded silk scarves made by a family of artisans from a small Cambodian village. A portion of the proceeds from every scarf is used to buy education necessities, including pencils, notebooks, calculators and rulers, which are donated to disadvantaged schools in the same region. "The Fulbright Fellowship will be a great opportunity for me to continue living abroad and expanding my international and cultural knowledge," Daniels said. Johanna Gregory ´10, Fulbright Teaching Assistantship, Germany Gregory, a German studies and history double major from Upper Montclair, N.J., plans to start an afterschool program to examine American influence on German slang and pop culture at the German school where she will be teaching. A scholar in the college´s Toor Cummings Center for International Studies and the Liberal Arts, she completed an internship in Germany during her junior year. "I decided to apply for a Fulbright because I wanted to go back to Germany, and I am so excited to have the opportunity to work with the people while I continue my learning and research," Gregory said. "I want to give back a little to Germany, which has given me so much," she added.
For media inquiries, please contact:
Deborah MacDonnell (860) 439-2504, dmacdonn@conncoll.edu
You might also like...