Connecticut College News
Back to Current News
Admitted students explore Connecticut College
04/21/2010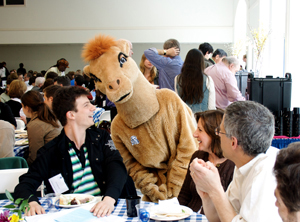 More than 450 high school seniors who have been offered admission to Connecticut College came to campus April 12 and 19 to experience first-hand the vibrant intellectual, social and cultural community here. Click here to view an Open House slideshow
President Leo I. Higdon Jr. welcomed the students during the annual Open House events.
"At Connecticut College there are more exceptional students than anything else. And you can be one of those students," he said.
Throughout each of the day-long events, admitted students and their parents learned about the College´s liberal arts curriculum, campus life, interdisciplinary academic centers, study abroad and the highly distinctive funded internship program. Students also met their future classmates.
Already, the Class of 2014 includes a two-time science fair champion, a Junior Olympics volleyball player, the inventor of a burglar-trap system and a holder of an Israeli camel-rider license. And while there were no live camels at Open House, many visitors did catch a glimpse of the College´s camel mascot cruising across campus on a skateboard.
For media inquiries, please contact:
Amy Martin (860) 439-2526, amy.martin@conncoll.edu
You might also like...