Connecticut College News
Back to Current News
As Connecticut College readies for Reunion, President Higdon publishes piece on alumni relations
06/3/2010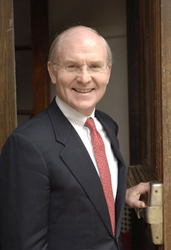 As Connecticut College prepares to welcome 1,000 alumni and guests to campus for Reunion weekend, June 4-6, President Leo I. Higdon Jr. comments in the Providence Journal on the modern-day relationship between alumni and their alma maters. It´s a mutually beneficial connection, he says, that can add value to the alumni´s education and enhance the college.
In the piece, Higdon argues that there´s a new paradigm in alumni relations across higher education. "Today´s alumni are taking on new roles at colleges by fostering strong cohesive learning and helping current students transition to the next phase of their lives," Higdon says in the op-ed. "And while their financial support is vital, the gift of their time and expertise is also transformative to students." This year many alumni have returned to campus to give lectures, take part in panel discussions and provide career guidance to students eager to see how others have applied their Connecticut College education in the world.
This week, alumni from class years ending in ´0 and ´5 - including two alumnae from the Class of 1930 - will be on campus to reconnect with peers and professors and see how the campus has flourished over the last several years. Alumni will also have the opportunity to learn more about the college´s environmental initiatives with Reunion´s "green" theme.
Dana Hartman Freyer, an alumna from the Class of 1965 and founder of Global Partnership for Afghanistan, a nonprofit that has helped Afghan farmers prosper and has planted more than 6 million trees in the war torn country, will give a keynote address at 8 p.m. on Friday, June 4 in Evans Halls at the Cummings Arts Center. Student groups, including the Renewable Energy Club (REC), Sprout! and Forest Justice, will also be on hand throughout the weekend, to discuss topics such as energy conservation and environmentalism at the college. Click here for more information and a full schedule of events.
For media inquiries, please contact:
Amy Martin (860) 439-2526, amy.martin@conncoll.edu
You might also like...