Connecticut College News
Back to Current News
Branchini helped create the vibrant graphic on the trucks
07/14/2010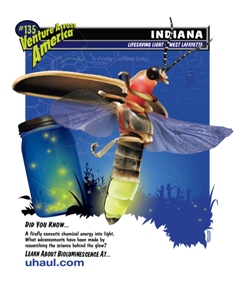 When students move in this fall, they may drive to campus in U-Haul vehicles displaying a vibrant graphic that Chemistry Professor Bruce Branchini helped create.

In the spring, the U-Haul SuperGraphics Team asked Branchini to consult on the company´s next SuperGraphic, a design featured on the company´s vehicles that serves as an educational and promotional tool. These graphics are often state-specific, such as an image of Connecticut´s Dinosaur State Park.

The SuperGraphics Team wanted to highlight the science of bioluminescence, the basic biochemistry leading to the emission of light by fireflies, and they needed help from Branchini, a leading bioluminescence expert.
"I jumped at this unique and fun opportunity to help the team members create their design," Branchini said. "After consultation, U-Haul decided to feature an equation from one of my papers."
The final result is a graphic of a large glowing firefly with Branchini´s bioluminescence equation in the background. It asks, "Did you know… A firefly converts chemical energy into light. What advancements have been made by researching the science behind the glow?"
Branchini´s bioluminescence research is now featured on more than 1,800 new U-Haul trucks throughout the U.S., but the scope of his work extends much further.
Branchini, Connecticut College´s director of the Bioluminescence Research Group, was recently awarded a $225,000 Air Force Office of Scientific Research (AFOSR) grant to continue his cutting-edge research on bioluminescence.
"The grant will enable me to continue a research project that I started in 2007 and will also enable me to have student researchers help me in the lab," Branchini said of the grant´s significance.
The student researchers will receive hands-on research experience, and will also learn standard lab practices and how to write scientific reports. They will also have the chance to work closely with Branchini, who since 1986 has mentored and overseen the research activities of more than 85 Connecticut College undergraduate students.
For media inquiries, please contact:
Amy Martin (860) 439-2526, amy.martin@conncoll.edu
You might also like...