Connecticut College News
Back to Current News
Camelympics nets $950 for New London Public Library after school program
10/27/2010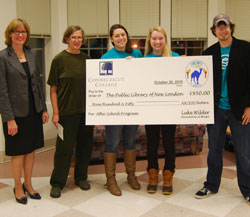 From left: Suzanne Maryeski, director of the library; Cris Staubach, head of youth services at the library; and Wright House student leaders Alicia Rea '12, Hadley Brooks '13 and Luke Wilder '11.
Connecticut College students donated $950 - raised during the college's annual "Camelympics" competition among residence houses - to the New London Public Library after school program. In addition to championship medals and bragging rights for the next year, the students from Wright House - the residence house that won the weekend-long competition - earned the right to choose a local non-profit organization to be the recipient of the money raised. They presented representatives from the library with an over-sized check at a small reception at Wright House Tuesday.
Cris Staubach, head of youth services at the library, thanked the students for thinking of the children. "It's because of people like the students at Wright House that we are able to offer children a variety of fun and enriching programs in a safe environment," she said at the reception. "Camelympics" features more than 40 events, including Scrabble, floor hockey, Nintendo Wii Bowling, basketball, dodge ball and "the longest event," in which one student from each residence house competes to see who can hold one hand on a particular tree for the longest amount of time.
In one event, "coin wars," students try to collect as many pennies as possible for their own residence house, while collecting more valuable coins - considered negative points - for the other residence house. In total, students collected 43,505 pennies, 2,408 nickels, 1,213 dimes and 613 quarters. They also raised $120 selling bobble head camels.
Senior Luke Wilder, the Housefellow for Wright House, said students discussed several different organizations before voting to donate the money to the library after school program. "I liked the idea a lot," Wilder said. "As a kid, I attended an after school program, and those are some of my fondest childhood memories. I think the New London program is a very important asset for the community." Suzanne Maryeski, director of the library, said the library is also grateful for the many Connecticut College students who have volunteered at the library or served the library while completing service learning requirements. "We love having Connecticut College students. You are getting one of the best educations in the country, and our children benefit greatly from that partnership," she said.
After selecting the library to receive the donation, students learned that Jocelyn Briddell, Connecticut College's dean of Student Life, serves on the library board. "This gift is very special to me, and unexpected," Briddell said Tuesday. "I know many of us have very fond memories of the public library, which is what makes this such a phenomenal gift."
For media inquiries, please contact:
Amy Martin (860) 439-2526, amy.martin@conncoll.edu
You might also like...