Connecticut College News
Back to Current News
Class of 2010 to graduate May 23
05/14/2010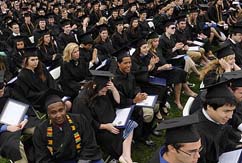 Nearly 450 Connecticut College students will receive their diplomas this year at Connecticut College´s 92nd Commencement on Sunday, May 23. A crowd of nearly 4,500 family members, friends, professors and alumni will gather on the College´s Jean C. Tempel ´65 Green for the 11 a.m. ceremony. In the event of significant rain, the ceremony will take place in Palmer Auditorium. Guests are asked to arrive by 10 a.m.; the processional begins promptly at 10:35 a.m. Economist Jeffrey Sachs, director of the Earth Institute, Quetelet Professor of Sustainable Development and professor of health policy and management at Columbia University, will give the keynote address. Sachs, who is known for challenging economic development policies, twice has been named one of Time Magazine´s 100 most influential leaders. President Leo I. Higdon Jr. and Class of 2010 President Alexandra Felfle of Barranquilla, Colombia, will also speak to the graduates and their guests. For the 18th year, each graduate will be presented with a sapling during Commencement exercises. The sapling represents the tree on the college seal and each student´s continuing connection to the college. Since the first year of the tradition, more than 7,000 saplings have been distributed. Following the ceremony, the new graduates and their guests are invited to a luncheon on the Library Green.
For media inquiries, please contact:
Amy Martin (860) 439-2526, amy.martin@conncoll.edu
You might also like...