Connecticut College News
Back to Current News
College takes on discussion of homophobia, bullying in wake of recent suicides by gay teens around the country
11/15/2010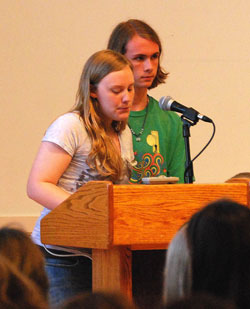 Brittany Armstrong '13 and Andrew Sowle '13 speak about being a good ally at the recent LGBTQ Teach-In on Homophobia, Bullying and Suicide. In addition to speaking during the "Community Conversations" part of the Teach-In, Armstrong and Sowle led the break-out session "How to be an Ally."
More than 200 students, faculty and staff crowded into the 1941 Room recently to discuss homophobia, bullying and suicide. Spurred by recent suicides nationwide by teenagers and young adults who have been bullied about being gay, Jen Manion, assistant professor of history and director of the college's LGBTQ Resource Center, pulled together the Teach-In to give the community a chance to learn and to reflect.
"I decided to host a teach-in because I am so devastated and I am so angry," Manion said after telling the crowd more details about recent suicides by young people who had been bullied or harassed about being gay. "It seems that our work is never done. No matter where we are, we can never do enough."
James Downs, assistant professor of history, kicked off the event via Skype from his fall semester sabbatical post as the Mayers Fellow at the Huntington Library in Pasadena, California. His full comments have been published as an essay, "Between Earth and Heaven: Ode to Tyler Clementi," in the Huffington Post.
Manion worked with Mab Segrest, the Fuller- Matthai Professor of Gender & Women's Studies and chair of the gender and women's studies department, and a group of students to organize this four-hour event that included personal stories from students, professors and deans and welcome remarks by Connecticut College President Leo I. Higdon Jr.
"A college campus is a natural setting for this kind of meaningful discussion," Higdon said. "I hope that everyone here learns something this evening - and that you will share these lessons with your friends who couldn't be here. Every person should be able to live in an environment free from harassment, bullying, stalking or other forms of targeting. Thank you for helping to make Connecticut College such a place."
The audience listened intently as professors and deans shared personal reflections, outlined on- and off-campus resources available and encouraged the College community to continue to build an atmosphere of respect and understanding for all. But it was the students' personal stories that seemed to move the audience most.
Jessica Bombasaro-Brady '11 shared her own experience with bullying and self-destructive behavior. "The tragedy now is that I'm so used to queer people killing themselves that I don't even think it's a big deal. If we don't do something now, we'll all be numb to suicide," she said.
Dvora Walker '11 said she had been a victim of cyberbullying. "It totally broke me down and took me apart. If you're struggling with this, I want you to know it does get better," she said. "We all make different choices and we all need to be respected for that. If you write something online, there's someone on the other side reading it. I'm on the other side and it hurts me."
Currie Huntington '11 added, "Sometimes that any of us made it past high school seems miraculous."
After a buffet dinner catered by local favorite Mirch Masala, the crowd broke into groups to discuss specific topics, including, "Getting Stronger, Assessing Strengths: For LGBTQ Youth," "How to be an Ally," "Supporting Gender Non-Conforming People," "Dismantling Heterosexism in the Classroom," "Suicide Prevention: How to Help a Friend," "Homophobic Taunting & Athletics," and "Bystander Intervention: Challenging Homophobia & Heterosexism."
"You all have brought an honest discomfort into the room," Segrest said during the wrap-up. "Thank you for engaging in questions that have not been engaged on before on this campus."
For media inquiries, please contact:
Deborah MacDonnell (860) 439-2504, dmacdonn@conncoll.edu
You might also like...