Connecticut College News
Back to Current News
Connecticut College momentum continues with summer campus renewal
08/17/2010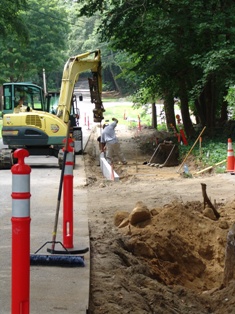 New classrooms, bathrooms and a digital photo studio, as well as upgrades to the basement rooms in every residence hall, are among the highlights of this summer´s campus improvement projects. The work is part of a 10-year campus renewal plan that enables Connecticut College to consistently stand out among the most beautiful colleges in the country. View a slide show of summer construction projects.
This summer´s work-carefully orchestrated to take place between Commencement and Convocation-touches every region of the 750-acre campus, from Cummings Arts Center to Harkness Chapel, through all residence halls and many academic buildings. "This beautiful campus is the perfect setting for the very personalized and intellectually challenging liberal arts education we provide," said President Leo I. Higdon Jr. "As we prepare to celebrate Connecticut College´s Centennial in 2011, our historic campus is well-prepared to begin its next 100 years."
Summer 2010´s largest projects include: Cummings Arts Center - Two new class/seminar rooms and a new digital photo imaging studio were developed to enhance the digital imaging capabilities and provide additional classroom and seminar space for students and faculty. Residence Halls - All basement rooms were upgraded with new furniture, lighting and electrical circuits and received fresh coats of paint. Bathrooms in three residence halls-Larrabee, Abbey and Lazrus-were renovated. Palmer Auditorium - A new roof was installed on Palmer. Shain Library - A new and more energy efficient cooling system was installed. Blaustein Humanities Center - New energy efficient lighting was installed. Winchester Road Homes - Four college-owned homes on Winchester Road were renovated and transformed into new student housing.
Other summer 2010 highlights include several new sidewalks, new surfaces on a number of campus roads and exterior painting on some academic and residential buildings. In addition to the campus renewal work happening this summer, campus administrators are currently planning major projects for summer 2011.
As part of its Centennial celebration, Connecticut College will break ground in the spring of 2011 on a state-of-the-art center for the life sciences and computer science. This $20-plus million expansion and renovation of the College´s oldest building, New London Hall, is being funded primarily through the Campaign for Connecticut College which has raised a total of $142 million to date.
For media inquiries, please contact:
Amy Martin (860) 439-2526, amy.martin@conncoll.edu
You might also like...