Connecticut College News
Back to Current News
Connecticut College welcomes the Class of 2014
08/30/2010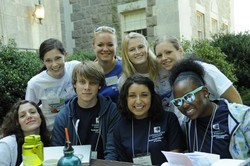 A mountain climber, a magazine founder, a crepe chef and top-rated pianist are just a few of the newest 501 members of the Connecticut College community. The 490 members of the Class of 2014 and 11 transfer students arrived on campus Saturday, and were excited to move into their new campus homes. Many had traveled a great distance - the newest camels hail from 30 states, Washington, D.C., and 23 countries, including South Africa, Iran, Yemen, China, Burkina Faso, Turkey, Poland, Liberia, and Ireland. View a slide show of Arrival Day 2010 here: Welcome Class of 2014! A diverse and talented group, the Class of 2014 was selected from a pool of 5,301 applicants.
Fifty six percent of the freshmen were ranked in the top 10 percent of their high school classes and 89 percent ranked in the top 20 percent. Fifteen percent of the students are the first in their families to attend college, and 18 percent are American students of color. The top anticipated majors among the new students include psychology, international relations, biological sciences, English, economics, history, environmental studies, art, sociology and government. During a welcome assembly the students' first day on campus, President Leo I. Higdon Jr., told the new students they are entering the college at a very special time.
"In January, we will begin a year-long celebration of Connecticut College's Centennial," he said. "Throughout our Centennial year, we will celebrate this very special liberal arts education and the impact it has on students and the world." At the assembly, students were also welcomed by Martha Merrill '84, dean of admission and financial aid; Armando Bengochea, dean of the college and senior diversity officer; Andrea Rossi-Reder, associate dean of studies for freshmen and sophomores, and Nathan Cornell '10, president of the Student Government Association. Each freshman also received a small blue "passport" emblazoned with the college logo and containing brief profiles of alumni. The passports are a gift from the Connecticut College Alumni Association through the Office of Alumni Relations. They are given annually to each incoming class.
The assembly kicked off a five-day orientation during which students learn about everything from the college honor code to its study abroad and internship programs. They also will meet with their faculty advisers, take placements tests, learn about community service opportunities and meet each other at a variety of social events like the annual "Batch Blast," a social gathering and picnic established in 1988 by an anonymous donor in honor of Esther Batchelder '19. The orientation week culminates with Convocation, a meeting of the entire college community to celebrate the formal beginning of the academic year, Thursday, Sept. 2, at 4:30 p.m. in Palmer Auditorium.
Simon Feldman, assistant professor of philosophy and recipient of the 2010 John S. King Faculty Award for Excellence in Teaching, will give the keynote address, "Honor Code Ethics 101." Freshmen and transfer students also will have the opportunity to get acquainted with downtown New London on Saturday, Sept. 4. During the annual "New London 101" event, students will have lunch at the Hygienic Art Park, take a walking tour of the city and meet New London's mayor, Robert M. Pero. Each student will also get a New London passport with information about the city's many restaurants, businesses and attractions.
For media inquiries, please contact:
Deborah MacDonnell (860) 439-2504, dmacdonn@conncoll.edu
You might also like...