Connecticut College News
Back to Current News
Demetrius Porter ´12 named NESCAC Men´s Basketball Co-Player of the Week
02/8/2010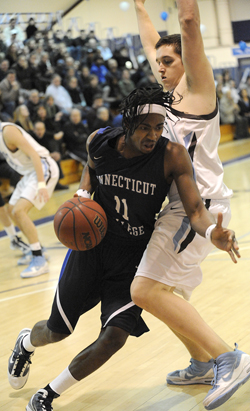 Demetrius Porter ´12 is the NESCAC Men´s Basketball Co-Player of the Week.
After scoring double-doubles in back-to-back games, Connecticut College sophomore Demetrius Porter has been named the New England Small College Athletic Conference (NESCAC) Men´s Basketball Co-Player of the Week. Porter exploded with a career-high 33 points and 11 rebounds against Hunter College in New York City on Feb. 1. Shooting 12-for-17 from the field and 9-for-11 from the free throw line, Porter scored more points than any Camel in a single game since 2006. Porter´s high scoring continued against Wesleyan on Feb. 6. In his seventh double-double of the season, Porter registered 31 points and grabbed 11 rebounds. Connecticut College Men´s Basketball Coach Tom Satran said he has been impressed with Porter´s recent scoring surge and is looking forward to an important weekend of conference action. "Demetrius has been really consistent over the past three games," Satran said. "He is finishing at the basket, driving the ball out of the high post and knocking down his free throws. When he has those three parts of his game going at once, he is really tough to stop." Porter is ranked sixth in NESCAC scoring with 16.7 points per game, fifth in rebounding with eight boards per game and fourth in blocked shots with 1.77 per game. The 6-6 sophomore was previously honored as the 2009 NESCAC Rookie of the Year. For sports-related media inquiries, please contact Will Tomasian, sports information director, at 860-439-2501; william.tomasian@conncoll.edu
For media inquiries, please contact:
Amy Martin (860) 439-2526, amy.martin@conncoll.edu
You might also like...