Connecticut College News
Back to Current News
Donald Budge ´10 wins national fiction award
04/16/2010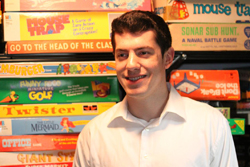 Donald Budge ´10 says you just never know when inspiration might hit. "I was in the middle of a ping pong game with my friends over the summer when suddenly I got this great idea," Budge said. Budge, who is an English major, dropped his ping pong paddle and began writing a unique fiction piece that would later earn him the national 2010 Fiction Contest from the Blue Mesa Review, a literary magazine published by the University of New Mexico. "The first half of the story was composed by me writing everything down right before I fell asleep in hopes of giving the story a dreamlike effect," he said. "After I had half of the story, I could write anytime." The rest of the writing process took a full six months. The result, a piece Budge titled "Expect a Lot from This Story," is a meta-narrative where all of the story´s literary elements, such as the plot and punctuation, are taken literally and personified as characters. It´s a story full of twists and turns, dinosaurs and explosions. Throughout the process, Budge had support from his advisor and mentor, English Professor Blanche Boyd. "Blanche told me she was not my writing janitor, and really challenged and pushed me to new heights," he said. "At the end of the process, she encouraged me to send this story out to be published and steered me to the contest." Budge submitted his story to the Blue Mesa Review´s 2010 Fiction Contest - and won. Boyd was not surprised. "Donald´s work is going to jump out of any pile," she said. "It did take him a while to find out how funny he is as a writer. It is amazing to watch my students grow up and find their strengths." Budge´s "Expect a Lot from This Story" was selected first out of roughly 125 submissions and earned him a $1,000 prize. The piece will also be featured in an upcoming edition of the magazine.
For media inquiries, please contact:
Deborah MacDonnell (860) 439-2504, dmacdonn@conncoll.edu
You might also like...