Connecticut College News
Back to Current News
Fall Weekend in pictures
10/19/2010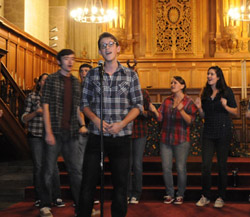 The annual all-group a cappella concert is a favorite Fall Weekend tradition.
More than 1,800 visitors came to campus to enjoy the beautiful fall weather and a packed schedule of exciting events during Connecticut College's Fall Weekend celebration Oct. 15-17. Slide Show: Fall Weekend in Pictures Highlights of the weekend included a talk by journalist Ned Colt '79, film screenings and discussions of documentaries by filmmakers Michael King '75 and Andre Robert Lee '93, a State of the College address by President Leo I. Higdon Jr., Harvestfest, athletic events, faculty seminars and an all-campus picnic.
For media inquiries, please contact:
Amy Martin (860) 439-2526, amy.martin@conncoll.edu
You might also like...