Connecticut College News
Back to Current News
Fall Weekend to highlight notable alumni and celebrate traditions
10/14/2010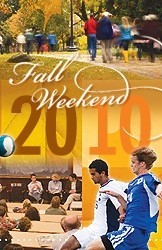 Three notable alumni known for their work exploring provocative and timely issues - filmmakers Michael King '75 and Andre Robert Lee '93 and journalist Ned Colt '79 - will highlight Connecticut College's Fall Weekend this year.
The College's annual celebration is expected to draw more than 1,000 alumni, family members and friends to campus this weekend, Oct. 15-17. In addition to many special events, including a half-year reunion for the Class of 2010, the weekend will include all of the traditional activities - Harvestfest, athletic events, faculty seminars and an all-campus picnic. Download the schedule of events.
King, an Emmy-winning director, will premier his new documentary, "The Rescuers," which tells the story of diplomats who saved thousands of Jews during World War II, Saturday at 7:30 p.m. in Evans Hall, Cummings Arts Center. Lee's film, "The Prep School Negro," takes viewers back to his adolescence - a full scholarship took him from the ghettos of Philadelphia to a prestigious prep school - and asks if things have really changed since then. The screening and talk are from 2-4 p.m. Friday in Cummings Arts Center.
Colt, who traveled to more than 80 nations between 1997 and 2009 as a correspondent for NBC News, speaks Saturday at 3 p.m. in Cummings Arts Center. Based in Asia and London, Colt covered conflicts in Iraq and Afghanistan, natural disasters and efforts to save animals. Visitors to campus will also have the opportunity to take a "sneak peek" at the College's plan for a more than $20 million renovation to transform New London Hall into a state-of-the-art science center. Faculty will discuss how the new center, set to open in Fall 2012, will keep Connecticut College students at the forefront of scientific discovery. Other highlights include alumni panels, student internship presentations, an Equestrian Team bagel brunch and an onStage at Connecticut College performance by the three-time Grammy-nominated Latin band Tiempo Libre.
For media inquiries, please contact:
Amy Martin (860) 439-2526, amy.martin@conncoll.edu
You might also like...