Connecticut College News
Back to Current News
Fame at the game: History professor featured in national commercial
12/6/2010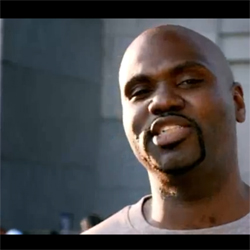 A screen grab from a 2010 MasterCard commercial shows History Professor David Canton
History Professor David Canton is enjoying his few minutes - or approximately three seconds - of fame. Canton, well known on campus for his interesting classes on everything from the civil rights movement to hip hop and pop culture, is featured in a new MasterCard commercial that appeals to baseball fans.
"We have bats, hats, mugs, T-shirts," Canton says in the commercial, describing the baseball paraphernalia outside the colossal Yankee Stadium.
A Yankees man through and through, Canton says he was headed to a game with his wife and another couple when he was approached by a woman who asked if he wanted to try out for the commercial, which features baseball fans from around the country. Hardly shy, Canton quickly agreed.
"They asked me a number of questions about being a Yankees fan," he said. "I wanted to show a great deal of enthusiasm."
A lifelong fan, Canton says his dad took him to his first game when he was just 6 years old.
"It was bat day, and I was unable to swing the bat," he remembers.
Ironically, though, Canton says he owns very little Yankees paraphernalia. And despite his appearance in the commercial, Canton does not currently own a MasterCard and does not intend to get one. Still, he says he would love to do another commercial if given the opportunity. Perhaps a second career is in the works?
Canton, who is far more accustomed to media appearances that relate to his academic expertise, plans to use up all of his "15 minutes" of fame.
"I'm enjoying my five minutes," he said, "and that means I still have 10 minutes left."
- By Amy Falk '11
For media inquiries, please contact:
Deborah MacDonnell (860) 439-2504, dmacdonn@conncoll.edu
You might also like...